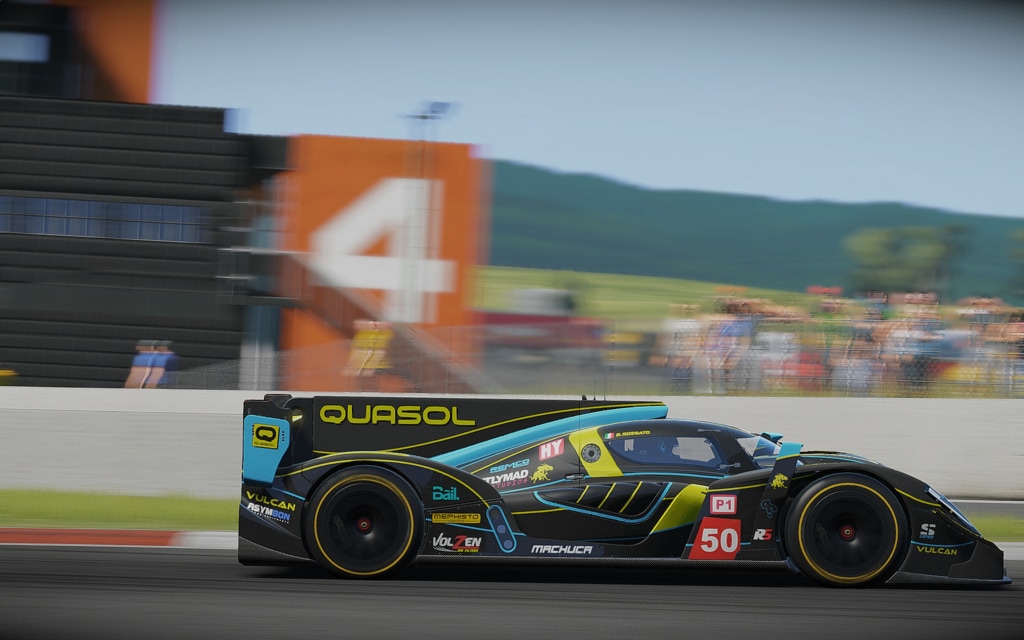 The race is on in the ESL European Championship; the first ever multiclass racing series in Project CARS Esports. It was worth the wait, with Race 1 at Spa Francorchamps throwing up some spectacular overtakes, clean racing and some fascinating tactical battles.

Our 8 Pro class drivers hustled the mighty LMP2 cars around the circuit, whilst the Challenger class followed in some familiar GT3 machinery. Read on to find out who set the early pace in the race for the title, and catch-up with on demand video.
​
The drivers
| | |
| --- | --- |
| Pro Class - LMP2 | Challenger Class - GT3 |
| CAR_DriverR1 | SDL M Power |
| SDL Mangator | SRT SpideR |
| SDL Magic_Michael | TSR Joker_1 |
| GTA Matty234 | TX3 Dofrer |
| BAM Khaki | VP Isaac21 |
| UNITY Smoky | ​VP Raskemenn4444 |
| GTA Tidgney | - |
| VP Ockerocker | - |
The Race
On pole in Pro Class for this 45 minute race at Spa was PS4 ESL veteran, DriverR1 with a 2:05.0 in the RWD LMP2 car. For Challenger Class, SpideR led the way in the Aston Martin GT3 machine with 2:15.9, leaving just under 11 seconds between the faster LMP2 driver and the fastest in GT3.
The race got off to a clean start at the front, but gaps immediately started to appear in the Pro field as DriverR1 showed his command of the situation to ease clear in 1st. SpideR also made good on his pole position start in Challenger, making the most of the clear track in front to control the opening lap. It was mostly a clean start throughout the field, although Raskemenn4444 had an issue in his McLaren 12C GT3 and sadly became the first retirement on lap 1.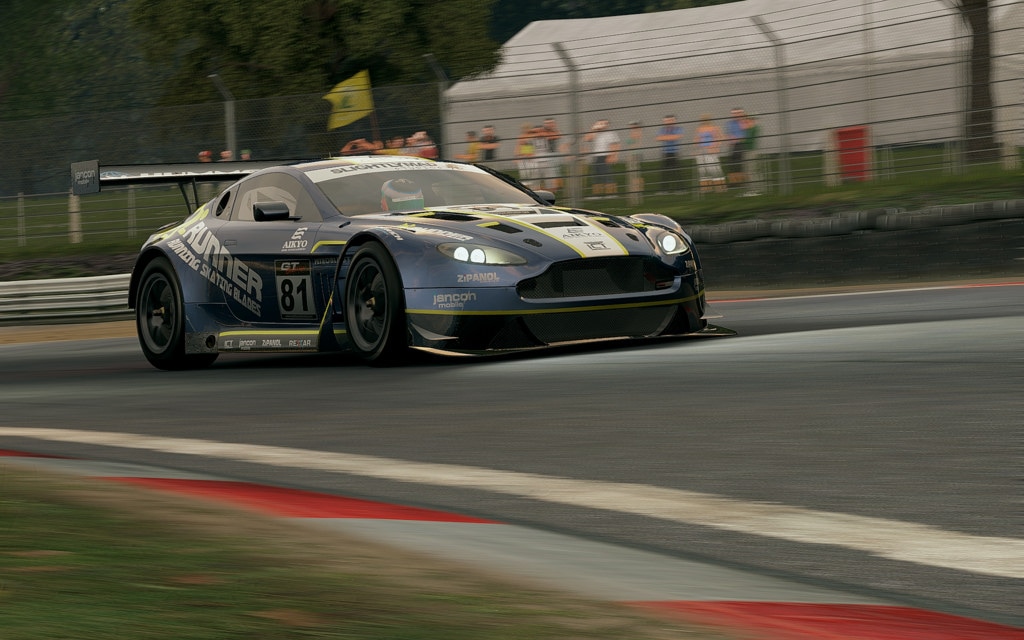 Most of the Challenger drivers had gone for the conventional Project CARS Esports choice of GT3 car, taking the McLaren 12C, but fascinatingly, SpideR was the only driver to go against the grain, choosing the Aston Martin, and he pulled away from his rivals in the early laps.
In the Pro Class, SDL teammates Mangator and Magic_Michael closed together by lap 3 to begin what would become an epic race-long battle for 2nd place. Mangator held his position for now as Magic_Michael feinted a move into the Les Combes chicane, but this was only the beginning for these two drivers.
Behind their battle, a connection issue for Smoky around 5 minutes into the race caused a very unfortunate coming together between him and "Polish monster," BAM Khaki. Forcing Smoky into an early retirement. Khaki was able to limp back to the pits to repair some damage to his LMP2 car, but this put him well down the field with over 30 minutes of the race still to go.
Up at the front of Pro Class, DriverR1 continued to pull away from the rest, and Mangator and Magic_Michael showed no signs of easing up in the fight for 2nd. Lap-after-lap Michael would feint a move to the outside of his teammate into Les Combes, but Mangator just seemed to be able to hold a better run through Eau Rouge and Radillon to maximise his top speed down the Kemmel Straight and hold his place. 14 minutes into the race though, Michael took his chance into Rivage and stole 2nd, but it didn't last long as Mangator regained the position into the Bus Stop on the very same lap. It wasn't over yet.

​With 22 minutes to go, Michael made a spectacular move around the outside of Mangator into Les Combes and this time he made it stick. Both drivers fought fair and cleanly, running side-by-side almost all the way to the Rivage hairpin, but Michael came out in front. Back in Challenger Class, Isaac21 and Joker_1 closed up in the fight for 2nd place, behind SpideR who now had a comfortable lead.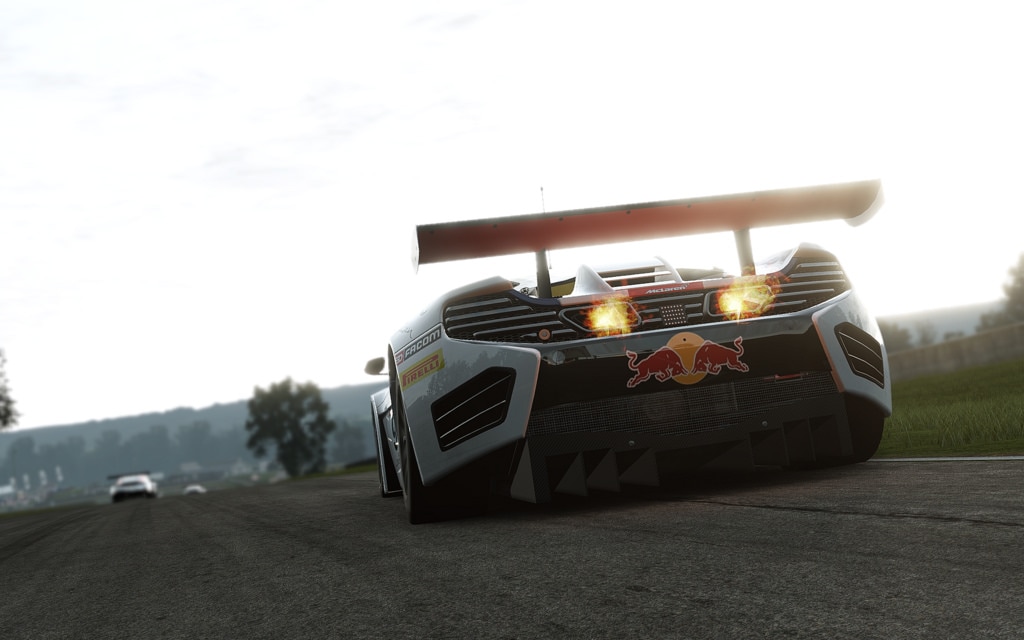 A couple of laps later and Managtor once again re-passed Michael for 2nd in Pro Class. This time thanks to a better run than his teammate through Eau Rouge, he edged past him comfortably on the Kemmel Straight. Traffic would now begin to come into play though, with the Pro LMP2 leaders lapping some of the slower GT3 Challenger cars for the first time.

Michael passed Mangator in the Rivage corner for the second time in the race in this ding-dong fight, but as the drivers came to pass some lapped traffic in the high-speed Blanchimont corner, Mangator had to lift a little, giving Michael a chance to pull away from him for the first time.

In Challenger, Isaac21 and Joker_ were still nose to tail in the fight for 2nd place, as Pro driver Tigney bravely put a lap on the two Challenger drivers by having to go three-wide on the Kemmel Straight, forcing Joker to ease off the throttle a little and give up what would have been his first chance to get a run at Isaac21. A couple of laps later and the same thing happened again, this time Joker's run to second was held-up by Ockerocker coming through to lap him just as he was shaping up for a pass on Isaac. This fight for 2nd in Challenger class continued for the rest of the race, but Isaac held onto his position. Les Combes seemed to be the best chance for Joker to pass, but his car didn't seem to be a match for the straight line speed of Isaac's, perhaps due to different setup approaches taken by the two drivers.

5 minutes to go and Mangator caught Magic_Michael again in the battle for 2nd in Pro Class. The fight went down to the final lap. Mangator made his move into Les Combes, but Michael didn't give him enough room and they both ran wide into the tarmac run-off area. Michael seemed to realise his error and allowed his teammate to continue ahead for second place.

It was a dominant win for DriverR1 in LMP2 Pro Class, and an equally strong showing from SpideR in Challenger Class to take the GT3 win.


Race 1 Results
| | | |
| --- | --- | --- |
| Driver | Class | Points After Round 1 |
| CAR DriverR1 | Pro | 100 |
| SDL Manator | Pro | 90 |
| SDL Magic_Michael | Pro | 80 |
| GTA Tigney | Pro | 70 |
| GTA Matty234 | Pro | 65 |
| VP Ockerocker | Pro | 60 |
| BAM Khaki | Pro | 55 |
| SRT SpideR | Challenger | 40 |
| VP Isaac21 | Challenger | 30 |
| TSR Joker_1 | Challenger | 25 |
| TX3 Dofrer | Challenger | 20 |
| VP Raskemenn4444 (retired) | Challenger | 15 |
| UNITY Smoky (retired) | Pro | 50 |
Next Race: Round 2 at Nurburgring GP
Tune in next Saturday, February 11 for Round two of the ESL Project CARS European Championship. Live from Nurburgring GP. Can Khaki, Smoky and Raskemenn4444 recover from a difficult first race? Can DriverR1 and SpideR continue their winning form? Find out next week.
​

Sign-up TO Join the action
Register at the ESL Play website to race in the Project CARS Go4 Cups every Sunday, and you could be in with a chance of securing a place in the Challenger Class for a future round of the European Championship. Find out more at the link below.