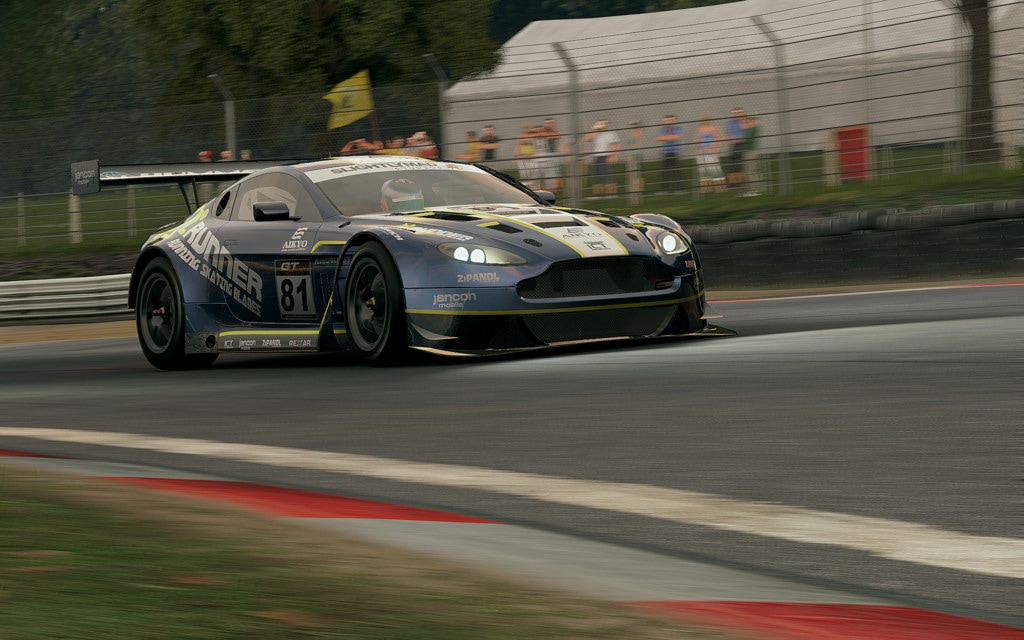 With just one race to go after Round 9, the tension is mounting as the conclusion to the ESL Project CARS Multi-Class Championship draws near. We travelled to Hockenheim's GP circuit for Race 9. A track that is perfectly suited to the thoroughbred LMP2 and GT3 race machines used in this series. The long back straight into a very tight hairpin provides ample opportunities for slipstreaming and overtaking.

Coming into Round 9, DriverR1 had a firm grip on the lead of the Championship in the LMP2 Pro class. However, he absolutely could not afford to have a bad result here. If his rivals close the gap, then things will get very tight going into the final round on May 6. The final race will count for double-points, so it was crucial for the leading drivers to consolidate their positions in Round 9.

In the GT3 Challenger class, series leader, SpideR once again was unable to qualify to race this week. He still has a solid lead over Joker_1 and Boxer4everr, but he may find himself in a much closer fight if both of his main rivals score strong results while he is absent from the action.

Read on to see what happened in Race 9.
​
The Drivers
| | |
| --- | --- |
| PRO - LMP2 | CHALLENGER - GT3 |
| CAR DriverR1 | GTPL Boxer4everr |
| Mangator | VP Ockerocker |
| Magic Michael | VP Darwin Daume |
| GTA Matty234 | TSR Joker_1 |
| VP Raskemenn4444 | VP MaSSa |
| SDL Yoohan | ACR Dan |
| GTA Tigney | - |
| VP Isaac21 | - |
The Race
It was an absolutely thrilling Qualifying session for Race 9, with drivers swapping grid positions lap-after-lap, and with tiny gaps at the top of both classes. DriverR1 took pole position in Pro class with a 1:28.9, just a tenth ahead of Magic Michael, and only half a second covered the top 4. In Challenger Class, Ockerocker took the pole by 0.1 in front of Boxer4everr.

On to the race and there were clean starts at the front with DriverR1, Magic Michael and Mangator pulling away in the first few corners. Tidgney ran wide in turn 1 though and picked up a slow-down penalty, which dropped him in amongst the GT3 drivers. He had some chasing to do to catch back up to his Pro rivals.

There was another penalty on lap 2. This time for Magic Michael who ran wide in turn 1, just as Tigney did the lap before. This made things look very comfortable for DriverR1 in the early stages. He was totally in tune with the circuit and almost running at qualifying pace. Mangator held second for now, but 0.5 per lap off Driver's early race pace.
​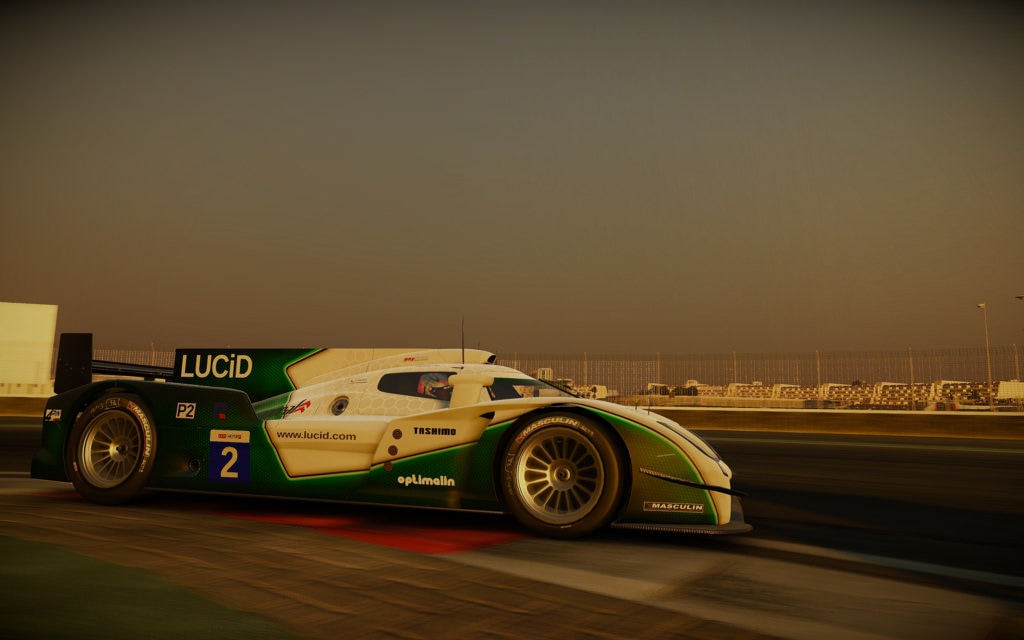 A little further back, there was a great battle shaping up on lap 4 for positions 5, 6 & 7. The recovering Tigney was catching Yoohan and Matty234. These three guys showed some terrific close and clean racing through the tight and twisting stadium section with minimal contact. Meanwhile, Boxer4everr and Ockerocker were running in first and second in the GT3 Challenger class in the early stages.
Up at the front, DriverR1 gave the wall a little tap coming into the stadium section. He was driving on the ragged edge and continuing to pull away in the lead.​
After his earlier penalty, Michael was pushing hard and catching Mangator rapidly. He made
his move on Mangator at the end of the long back straight, late on the brakes and with great traction at the exit to pick up momentum and take 2nd place in LMP2.
Mangator did not give up the fight though, and shaped for a move to take the place back in the same corner on the following lap. However, Michael managed to see off his advances for now.
​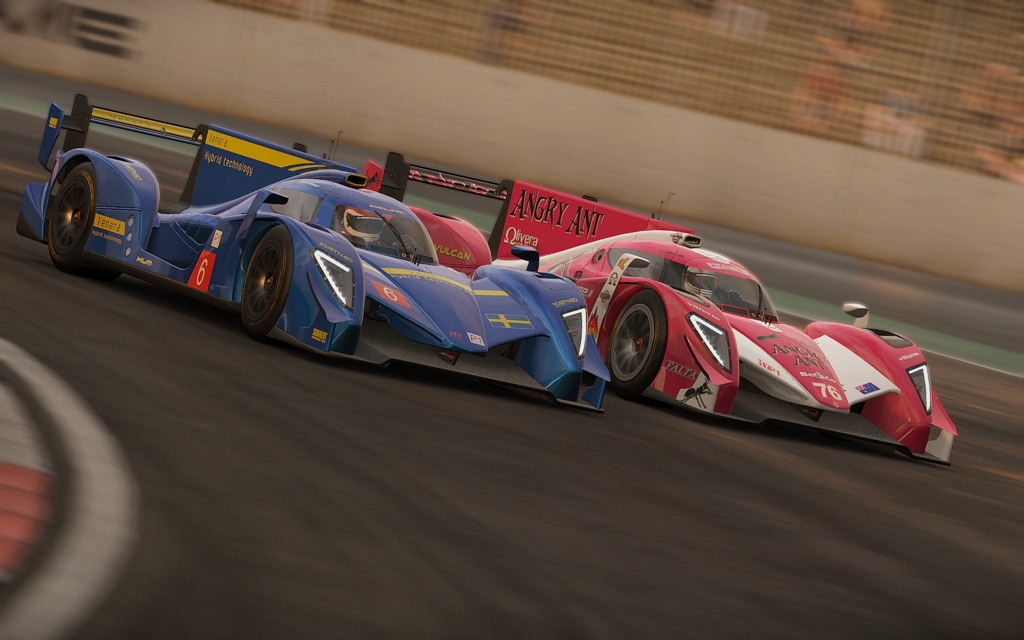 DriverR1 continued to push everything to the limit up at the front, despite his comfortable lead. This seemed like a risky strategy in a short 30 minute race. One mistake could cost him everything, but he rarely makes an error.

Boxer4everr still lead comfortably in GT3, by a couple of seconds over Ockerocker. Just behind them, Joker_1 was all over the back of Darwin Daume in Challenger class, but attention quickly turned back to a shock in the Pro field, as Michael had somehow dropped down to P7 off camera. Leaving Isaac and Tigney to fight for the final podium position in Pro class as they also battled their way through the GT3 traffic.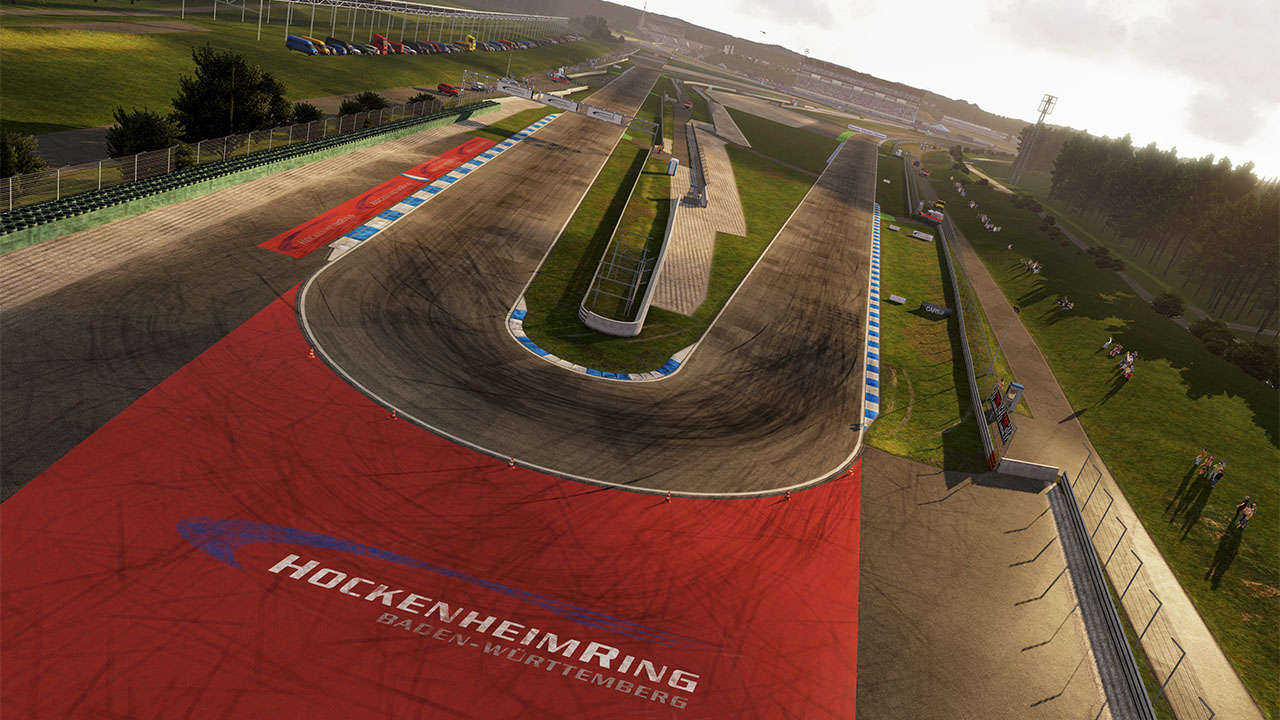 Joker's battle with Darwin Daume came to an unfortunate end as a huge slide for Joker in turn 1 cost him a lot of time to the car ahead and made life much easier for Darwin in the closing stages of the race.

It was a comfortable and dominant win for DriverR1, followed home by Mangator and Tigney who made his move on Isaac in the dying seconds of the race with a beautiful pass which took the drivers side-by-side for almost half a lap. Michael's tough afternoon saw him come home 7th in class.

​In Challenger class Boxer4everr took the win after a very solid performance all race long. A well deserved victory for him.

With double points in the final round, there is still a fight on for victory. Particularly between DriverR1, Mangator & Magic Michael at the top of Pro class, and SpideR, Boxer4everr & Joker_1 in Challenger. Check out the details of the final race below, and make sure that you tune in for the final!
​
Our results page will be updated after ESL has updated the latest points standings on the
ESL Play website
.
​
Next: The Final Race of the Season
We have another one week break in the championship coming up, before the final race of the season on Saturday May 6. Follow "ESL Project CARS" on social media for more details as we head towards the final showdown, with double-points on offer in the last round of the championship.
​