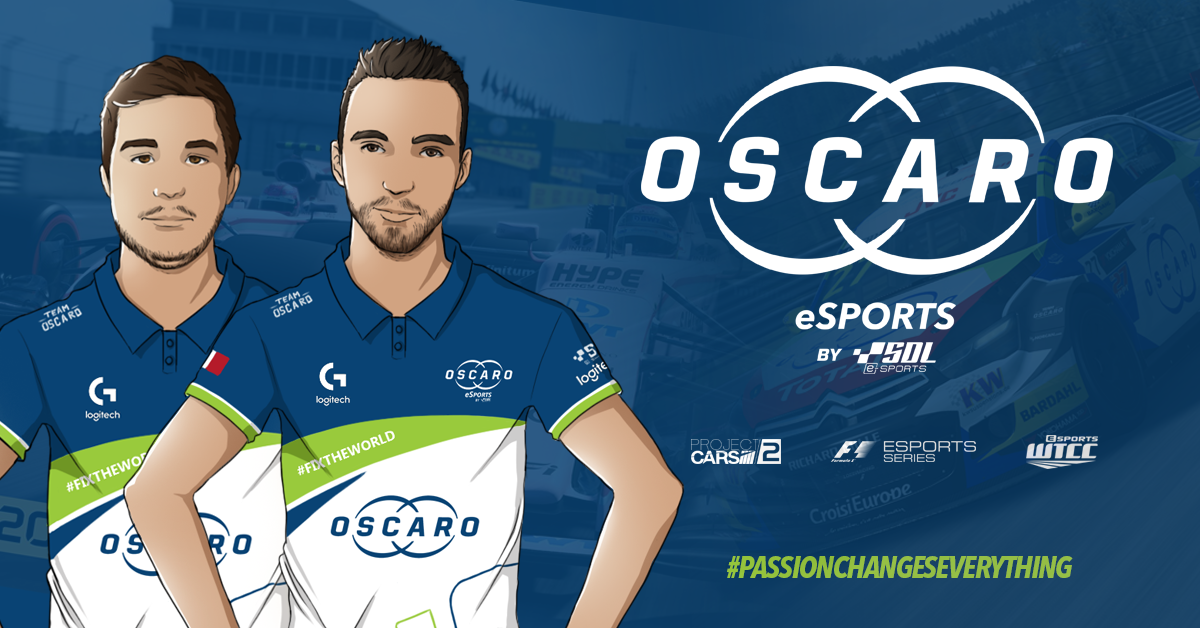 You know them better as SDL eSports, and they've had a fantastic year of competition in 2017. After a successful campaign in the SMS-R Series, which saw them travel to our Gamescom World Final as Series Champions, SDL attracted the attention of French autoparts retailer, Oscaro, which is now their title sponsor. This is a new era for the team, and although the Gamescom World Final didn't quite go to plan for them, they are still a force to be reckoned with in the world of sim-racing, and especially in Project CARS esports.

We got together with Team Manager, SoniK and driver, Rotax to have a chat about 2017 and give you some more insight into the personalities and history behind Oscaro eSports.
Tell the fans a little bit about yourselves. How did you both get started in sim-racing?
SoniK: I almost always play racing video games. I started from the age of four playing Grand Prix on my father's lap. Then, later, I really started sim-racing, in parallel to kart racing. Games have become more and more attractive and more realistic. Back then with a Logitech G25, sim-racing was an obvious path to me, and its evolution in esports through games like Project CARS only reinforce this choice.
Rotax: Sonik and I experienced pretty much the same things in karting, and this passion for racing made me turn to sim-racing. I was about 14 when I joined the SDL team, always with that thirst for competition. Since then I have never stopped sim-racing, and with its evolution in esports, sim-racing is not ready to stop either.
How did you progress from racing for fun to competitive racing and esports?
SoniK: We never really raced for fun. Of course, we have fun in what we do, but we are really competitors at heart, from the moment we hear "competition", there are almost no friends! Therefore, competitive racing has always been there for us, especially since esports presented itself.
SoniK, you're heavily involved in developing the esports community in France. Can you tell us how it has grown over the last few years, and how popular has sim-racing in your home country become?
SoniK: I do really want to help develop sim-racing in France, There is a great community, which is constantly growing. It's not easy in a country like France, which is a motorsport country, but it's lagging behind other countries in terms of esports development and sim-racing. We're striving to highlight sim-racing more.
You had an amazing season in the SMS-R this year, and you've won many Project CARS championships over the years. What is it that makes SDL so competitive and consistent every year?
SoniK: Project CARS was very successful for us. We really hooked into the game, it was the game we had wanted for a long time on consoles. We worked a lot to understand the game. What made us strong is that we were a team with players that always worked together to help each other. Everybody works for the team, and that pushes individuals at the top.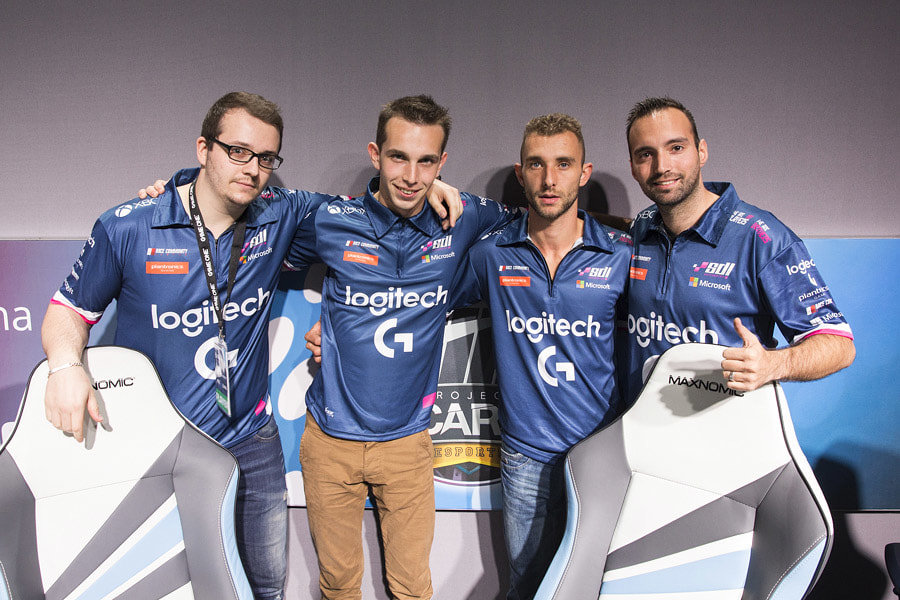 The SDL/Oscaro team has been competing in Project CARS from the very start. Here they are at Paris Games Week in 2016.
After winning the SMS-R Championship, you arrived at Gamescom as one of the favourites to win the World Final. How did you prepare for the Final, and what was your strategy going into those races?
SoniK: The SMS-R Championship was our priority. The Final at Gamescom was only a bonus. We prepared as for the rest of the championship. StorM and Rotax prepared for the races, although less than usual, as it's not easy to be ready to play in the middle of August, but it was the same for everyone. There was no specific strategy, but the goal was clearly to win.
The World Final certainly wasn't your first time racing in front of a crowd. We've seen you race at Gamescom and Paris Games Week before. How do you get ready to race in front of a live audience, and what unique challenges does it bring?
SoniK: It's complicated to get prepared for such an event, since we cannot recreate the atmosphere at home. This obviously brings a lot of adrenaline. Gamescom was the first offline event for StorM, so it was not easy to handle the stress. We had to stay focused, despite the complicated conditions and the new equipment. We needed to get used to it quickly.
How did you feel about your third place in the World Final? How did you feel about your pace and performance level at Gamescom?
SoniK: Honestly, after how we performed there, we did not deserve much better. We certainly had two of the best players there, but even though there were complications, we had to do better.
Rotax was on pole for the first race, but dropped to second after a bad start. He was too impatient, and went off. He climbed up the field quickly, but that was not enough. StorM went out early as well. It was complicated for his first race.
In the second race we did not choose the best car, which was a mistake on our part. Rotax miraculously still managed to finish 2nd, though StorM was out at the start. It was very challenging for him.
In the last race, we had to finish first and second to win the Final. StorM did an astonishing lap to take the pole. Rotax, less at ease, was further down on the grid. And back there was a lot of drama. Rotax attempted a cannon start to catch up, but he jumped it and was disqualified. StorM made the perfect race though and won it without difficulty.
We had pure speed, but circumstances and too many mistakes from our players meant that we failed to do better. Congratulations again to the BAM for their victory at gamescom. We must learn from our mistakes and not reproduce them.
Which leagues do you race in outside of the official Project CARS championships, and how much practice do you put in for each race?
SoniK: Outside of the official Project CARS championships, we did the ESL Races, and we are also present on other racing games. When we are back on Project CARS, many of our players will be driving in the GT3 class. They just love these cars! We are also big fans of rallycross in Project CARS 2, it's so much fun.
What about car setups? This year's Project CARS championships were fixed setup, but how much time do you spend developing your setups for league racing, and do you share information amongst your teammates?
SoniK: Some of our players love to spend time adjusting cars to adapt perfectly to their driving—I'm talking of Rotax for example, who greatly helped with the settings of our cars for the SMS-R 2016. I think the best would be to have two types of championship, like in 2016, one with car setup changes allowed, and the other without.
It takes a lot of time to have a perfect setting for a time trial event. Sometimes more than 30 hours. We obviously share the setups between all of our teammates. Sometimes even those with the fewest setup skills can find little adjustments that make a difference.
We know that your team is sponsored by Logitech, but what sim-racing gear to you use in your setups at home? Which seats, wheels and pedals do you use?
SoniK: Our players are fully equipped with Logitech, G29 or G920, with the Logitech shifter when we need it, Logitech's pedals as well. They have been trusting us for over two years, and we are very pleased with this partnership
What's your number one tip for new drivers that are just getting started in competitive esports sim-racing?
SoniK: If I have only one advice to give, it's to never give up. Sometimes it's not easy, but one must not give up. There's nothing without effort. One must work hard to achieve the objectives.
Finally, what does the future hold for SDL? We expect to see you fighting at the front once again next season.
SoniK: The future looks very promising for the team. With our recent partnership with Oscaro, which has taken the naming of our team, we intend to achieve beautiful things with them. We will obviously be present on Project CARS 2, and hope to once again fight at the front!

You can follow Oscaro eSports on their social media pages:
Twitter
Facebook