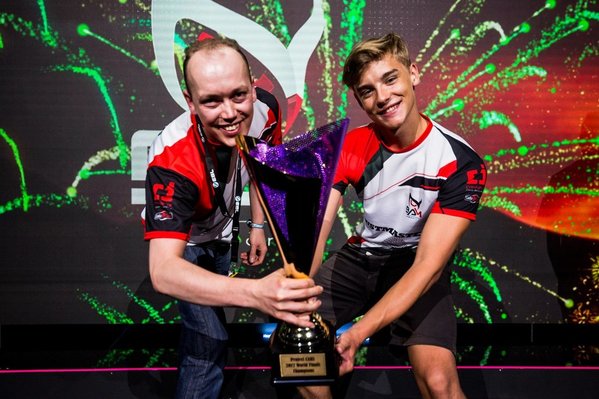 After a tough season in the SMS-R Championship that was plagued by injuries and bad luck, the
Thrustmaster
sponsored BAM team arrived at the
Project CARS World Final
as underdogs. But they left in a blaze of glory. We sat down to chat with drivers, Khaki and TomiKillos, to find out more about these ultra-fast sim-racers, and their journey through the 2017 Project CARS esports season. This in the first in a new series of interviews with our top teams, so look out for interviews with some of our other big names in the weeks ahead.
Tell the fans a little bit about yourselves. How did you get started in sim-racing?TomiKillos:
As long as I can remember, I have always loved cars and wanted to race them. I think this all started when my father took me to drive a kart for the first time and, as we all know, racing isn't the cheapest hobby in the world, and as a 12 year old boy, I just couldn't afford to race karts competitively. The leap into sim racing happened when I sold my RC car and bought my first steering wheel for my PC in order to try racing online. Today I am 32 years old, and I'm still enjoying close and clean battles on virtual roads.
Khaki:
I fell in love with racing when I tried the original
Gran Turismo
for the first time when I was about five years old. Back then I already knew that racing was my genre of game. I started to mess about with car setups about three years later, learning about racing, driving techniques, and I began to get quicker and quicker. I got into racing seriously when I was a little kid—the earlier you start, the better you'll be. That was where I learned all the important basics for serious driving. Later, at about age 13, I got my first sim-racing equipment—a Logitech G25—and then the competitive online racing began when I signed up for my first professional league.
How did you progress from racing for fun, to competitive racing and esports?TomiKillos:
In my case it was just an accident. A friend of mine asked me about the 2016 SMS-R Championship. He offered me a chance to join his team, and I said yes. In the middle of the season, there was a transfer window, and that's how I joined BAM. That was also the moment when online racing started to get serious, but even during big tournaments like this year's SMS-R, I will always look to have fun.
Khaki:
There is no clear and visible transition for me, because it is still racing for fun. My attitude to Project CARS was very serious before the release of the game: My plan was to delve deeply into this game. That's where esports started for me. I started competing in the first existing Project CARS leagues like Precision Racing League and, later Apex Online Racing (my favourite one). When Project CARS and ESL started to cooperate, I joined the first ESL Sunday Cup, and enjoyed racing in that regularly. I won many of these cups, and I had a lot of fun. Later, more serious tournaments appeared, like the SMS-R Majors, NVIDIA Challenger 2016 series (this is when I joined BAM), the Ginetta Cup, and of course the SMS-R 2017 Championship.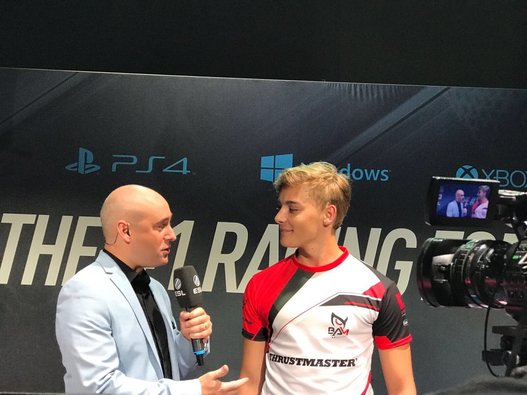 Which leagues do you race in outside of the official Project CARS championships, and how much practice do you put in for each race?TomiKillos:
Honestly, I only had a short stint of racing in the Project CARS Polska league. I think it was about three or four races. Unfortunately I didn't have much time for online racing. I was planning to join
AOR league
, but race scheduling collided with my work so I had to pass.
Khaki:
My first online experience in Project CARS was the
Precision Racing League
, where I met a lot of clean, fast drivers. I enjoyed the races a lot. It was a fantastic community league, which I recommend for everyone looking for some fair racing. I competed in a whole one season and I won it. Back then, I put a lot of practice into every race, because I was still learning the game, cars and tracks. My best online racing experience was definitely in the
AOR (Apex Online Racing) league
. The organisation of the whole league was top-notch. It had an amazing racing calendar, a big community, live streams, commentary, you couldn't ask for more. I had such pleasure racing with all these guys in AOR. I competed in seasons 2, 3, 4, and 5. One or two hours of practice was enough for me before every race. Beside PRL and AOR, I competed in tons of
ESL Sunday Cups
(over 100!) and had a great fun. All these experiences have helped me to become both quick and consistent.
What about car setups? This year's Project CARS championships were fixed setup, but how much time do you spend developing your setups for league racing, and do you share information amongst your teammates?TomiKillos:
When I hear words "car setup" it sounds to me like black magic. Of course I know the basics, but there are so many possibilities in Project CARS. Probably that is why I'm spending more time on car setup than other players. If a miracle happened and somehow I've created something that really works, then of course I share my setup with my teammates. We always help each other. I'm not scared of someone being faster than me with my setup, it just means I have to improve, and that motivates me. Personally I prefer fixed setup championships because everyone is wearing the same shoes, and only skills matters.
Khaki:
I was happy about the fixed setups rule, because I like when only the driving skill matters in terms of lap-time pace. I always had to develop my car setups for Apex Online Racing and some first ESL Cups, but I was always able to create a good, fast and suitable setup for my cars in a short time. I always share all the information amongst my teammates. We need teamwork, so I share all the tips I can about all kinds of corners, cars behaviour, etc. I also send my onboard videos of my laps, which is very helpful for my teammates.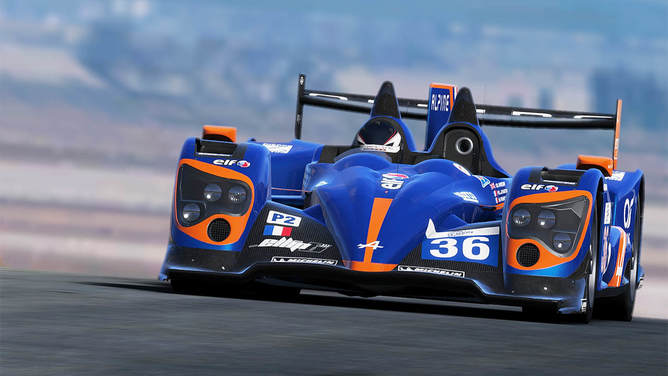 You had a tough season in the SMS-R Championship Series, especially since Khaki missed a lot of races with a leg injury. Khaki: How did it feel when you returned to racing? Did you get back up to speed straight away, or did it take some time for you to settle back in after the injury?TomiKillos:
Bad luck came about two or three days before first round of the SMS-R Championship. We were all devastated when we heard about Khaki's leg. Actually, since that moment, there hasn't been one race where when everything went well for both of our drivers in any race. It didn't matter if it was me, DyndaS or Khaki, each race one of us had some issues. We had a plans to fight for the win, but reality, sadly, was completely different. It got so bad at one point that we really began thinking we wouldn't even qualify for the Gamescom Final—but in the end we made it.
Khaki:
Exactly, I had a long break after my leg injury and I was concerned that I couldn't get back to my race pace quickly. I was very eager for my first comeback race and actually, I was very surprised that I came back up to my real pace very quickly. I just needed two hours to adapt myself. Unfortunately, my leg was still in pain in the first two races, so it was a pretty disruptive issue for me.
Despite the difficult season you had, you stole 5th place in the SMS-R Championship away from TX3 in the very last round of the season. How satisfying was it to know that you had secured your place in the World Final at Gamescom at the very last opportunity?TomiKillos:
Our goal for the final race was to finish ahead of both TX3 drivers. I felt a lot of pressure because who wouldn't want to go to Gamescom? When I saw results for the last round, I just couldn't stop smiling. All the pressure was gone, and I was super-happy that we did a good job and secured that last qualifying spot for Gamescom.
Whatever is happening, never give up. If there is still chance to complete your goal, just do it.
Khaki:
The very last round really was a simple "to be or not to be" for BAM. We had so many problems during the whole season, so the nerves in the last race were undoubtedly intense. I had no room for thinking that we wouldn't be going to Gamescom; for me, there was no other option than finishing ahead of TX3 in that last round, and when we managed to secure the place, it was happiness overload for all of us in the team!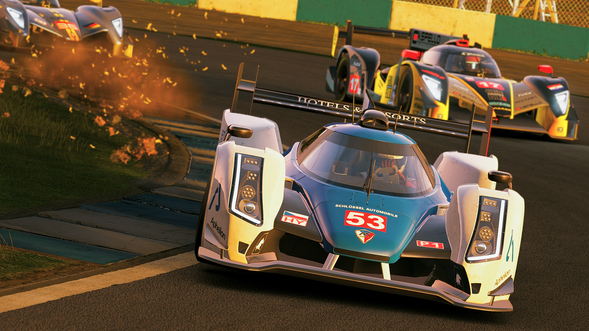 Because you only came 5th in the main season, you arrived at Gamescom as underdogs. How did that affect your preparations for the World Final, and what was your strategy going into those races?TomiKillos:
Preparation was the same as for the past nine rounds. We took all of the races seriously, but we also wanted to enjoy it as much as possible. Strategy was very simple, show everyone that we are able to drive fast and win this championship, but don't take it too seriously, because massive pressure doesn't help to make you faster.
Khaki:
Qualifying 5th didn't affect our motivation negatively at all, so we were still aiming for the top position. We wanted to show what we are able to do at a live event, and to not get distracted by the stressful atmosphere of being on a stage. Our plan was to take all three races as seriously as possible, but have the best time and enjoy the moment. We just wanted to drive our own pace. Preparations for the World Finals were the same as for the all nine rounds.
You both seemed to cope well with the pressure of the crowd and the stage in the World Final. What was it like to race in front of such a huge audience when you're more used to racing online at home?TomiKillos:
That was very weird because I was expecting huge pressure. It's not exactly every day that I'm racing in front of hundreds of people in an arena, but I was very relaxed, which is very weird. I felt more pressure while racing at home than on stage. I think that's because of that amazing atmosphere, and the people who were there watching. It will stay in my mind to the end of my life.
Khaki:
Actually, the live event conditions like the big crowd, specific atmosphere, huge pressure, unknown racing equipment, live interviews, all of that was what made me anxious. I was so enormously surprised, though, at how comfortable I felt right off the bat when the event started. All these factors didn't affect my concentration at all, because everything was so well organised, and because of great people I met there.
My lap times were the same as racing at home, I was super-focused, there was very little that could have distracted me at that moment. I had a great time being interviewed live on stage—I felt no stress at all! Actually, people were laughing and joking that I was stealing the microphone from the interviewer! He even told me that it was the easiest interview of his career, because I'd answered all the questions before they were even asked!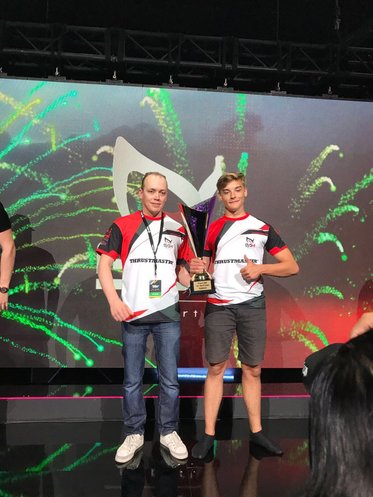 You didn't win all of the races in the Final, but your consistency as a team paid off and gave you the trophy and the prize money. How did you feel about your pace and performance level at Gamescom?TomiKillos:
The key was consistency. Except for the second race, when I hit the wall and had to fix the car, we did a very good job. For all three rounds Khaki and I both qualified in Top 4, which was great. Our pace was letting us keep or even gain places. It's a great feeling when you feel relaxed and confident and you're fighting with the fastest guys in the world. Everything went very well for our team, and I'm very happy with our performance.
Khaki:
We both did the best job we could've ever done. We just fulfilled our plan! We've showed everyone what are we able to do, and we did it live, which makes this even sweeter. Our performance was amazing. We were both very fast in terms of lap times, super-consistent and focused like never before, and enjoying the races as much as possible at the same time. It couldn't have gone better for us, and we are really proud of our huge achievement. Like you've said, consistency as a team paid off and gave us an amazing trophy.
We know that your team is sponsored by Thrustmaster, but what sim-racing gear to you use in your setups at home? Which seats, wheels and pedals do you use?TomiKillos:
Unfortunately I don't have much space for a racing cockpit, and at the moment I'm forced to race on a kitchen chair—but it's a very comfortable kitchen chair! For holding my Thrustmaster T300 Alcantara wheel and Thrustmaster T3PA-pro pedals I'm using a Wheel Stand Pro Deluxe V2.
Khaki:
We are equipped with Thrustmaster brand sim-racing equipment. For now, I'm using the equipment I got from our sponsor, which is the Thrustmaster TS-PC Racer wheel and T3PA Thrustmaster pedals, and I feel very comfortable with my rig. It's all mounted on a cheap homemade cockpit with a car seat. I plan to upgrade my cockpit in the near future, but for now, I'm happy with my gear.
What's your number 1 tip for new drivers that are just getting start in competitive sports sim-racing?TomiKillos:
Be patient, race with guys who are faster than you, and learn from them.
Khaki:
Practice, practice, practice. Did I mention that you have to practice? Patience is the key to victory. New drivers need to adapt to all the important stuff about racing, driving techniques, different type of cars, every kind of corner. Being fast in time-trials alone on the track doesn't mean that you will be quick and clean in the race with other drivers, so you have to race with guys who are faster and more experienced than you to learn from them. The most important thing is to become a safe, clean, and respected driver. Good lap-time pace will come eventually with more experience.
Finally, what does the future hold for BAM now that you have been crowned World Champions? You'll now have a target on your back next year, as you look to defend your status against your rivals in Team Redline, SDL and all the rest of the top teams.TomiKillos:
Simply, we are waiting for the next championship and we will try to defend our title.
Khaki:
We are aware that the competition is growing in strength, but that doesn't scare us, we will do our best to defend our title next year. BAM is looking forward to
Project CARS 2
and all the events that are going to be present in that sim. #StayStrongBAM!
You can follow Khaki online on his
Facebook
and
Twitter
pages. Look out for more interviews with some of our other esports teams in the weeks ahead. SDL will be up next.
---