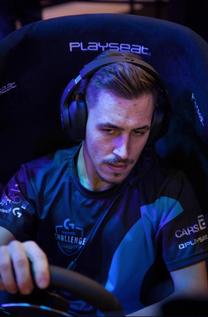 In any competition, it's a huge challenge for an underdog to come through and take victory, but that's exactly what
Kristian Kwietniewski
achieved in
Project CARS 2
in the Logitech G Challenge. Back at Paris Games Week, Logitech hosted one of this year's most impressive esports stages, where a big crowd and an eager online audience watched Kristian take on some of the world's top sim-racers. He battled with drivers from teams like TX3, Team Redline, F4H & Veloce, to complete a tremendous win.
Kristian's reward is a spot in the McLaren Shadow Semi-Finals, which will take place in December at the prestigious McLaren Technology Centre in Woking, UK. Read on to find out more about Kristian and his sim-racing journey. We sat down for a chat with him to discover how he pulled off that Paris Games Week surprise, and what his expectations are for the next steps in his young racing career.
---
How did it feel to win your first Project CARS championship?
Winning on a stage like in Paris is a feeling of pure happiness. It is always my goal to fight for the victory, and to do it in a great European final was an incredible sensation and a huge adrenaline rush. Receiving the trophy from the great Llando Norris and Rudy Van Buren was a proud and unforgettable moment!
How did you prepare for the qualifying event?
I qualified through the wildcard qualifier at Madrid Games Week on the very last day, but I did not know that I had been successful until just a few days before the Paris Games Week. That only gave me one day of training for the finals in Paris before the big event. That's why I did not expect victory, because of my little training, but thanks to my consistency in the 3 races, I was able to get the win!
For the finals in Paris, you had to travel from your home Spain, get used to an unfamiliar rig, and drive in front of a crowd. How did you get ready for these challenges?
I have some experience in these stages, and in fact I think that my strongest point as a sim-racer is face-to-face events. The key for me is to be as calm as possible and be focused on driving, so that you can show all that you have in that moment.
What was the most important thing that you learned from this competition about sim-racing in general, and what was the most important thing that you learned about yourself?
That you always have to trust in yourself. I arrived at Paris with the feeling of being the least favourite driver on the grid, since I could only train one day, but when you win the first race and start believing in yourself and that you can do it, that's when you get the best out of yourself.
What was your favourite thing about the experience in Paris?
The experience of winning the great final is a moment that I will remember all my life, because the happiest moments we live are those that we will never forget. I must also say that having dinner on a boat with the views of the Eiffel Tower was incredibly wonderful.
How did your friends and family react when you won?
As soon as I could, I phoned them and they answered me with shouts and leaps of joy. They were watching me live at home, and they sent me the same happiness that I too felt at that moment. I love that because I know that they support me at all times, and win or lose they will always be there to encourage me to keep fighting for my dreams.
Your next challenge will be the McLaren Shadow Semi-Finals at the McLaren Technology Centre. This is a big step up in terms of the venue and the level of competition. What are your expectations for the Semi-Finals, and will you have to raise your game, or change your approach?
It's going to be an incredible experience to compete at the McLaren Technology Center. Very few people and drivers will get to experience something like this, so my mentality will be the same as for the grand final of the Logitech event in Paris. I will go to enjoy it, and give the best of myself to be happy and proud of my driving. Although I have to say that there will always be nerves since we will playing for the dream of any fan of the engine, any driver or anyone that loves this world of racing and cars. Being a McLaren driver is a real dream.
What kind of setup do you use at home? What rig, wheel etc do you use?
I use two different setups that I switch depending on the game. My first setup has the Thrustmaster TX Racing Wheel, and Logitech G27 Pedals with the Leo Bodnar mod. The second setup has a Logitech G29 Wheel & Pedals. In either setup, my rig is a Zalem v27 with a Playseat seat.
What are your favourite car & track in Project CARS 2?
Right now without any doubt it's the McLaren 720S. The competition was the first time I drove this car and I loved that the best technique was to be aggressive, but at the same time as fine as possible, taking care not to accelerate too much and make a mistake which can cost you the race or the championship. As for my favourite track, I always choose Nurburgring Nordschleife, because every year I go to drive to this circuit and it always leaves me impressed.
You can follow Kristian on Twitter, @KristianK_93, and if you missed the action from the Paris Games Week finals, check out the video below.