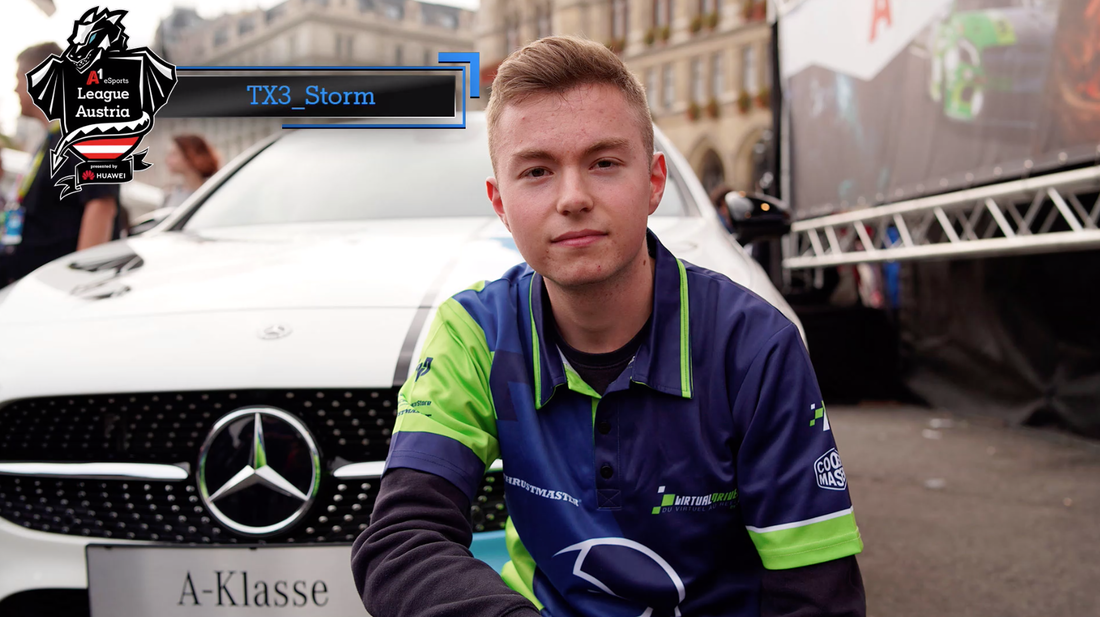 Just a few weeks ago, Storm was yet to win his first major esports title. Of course that all changed at Vienna's spectacular Game City event, where this young Frenchman stepped up and secured victory in Season 2 of the A1 Esports League. Cheered on by his teammates from Virtual Drivers by TX3. Storm overcame some extremely tough competition to take home a huge trophy and a cheque for €6000, in one of the most closely contested Project CARS championships yet. If you missed the action,
catch-up here
.
We sat down for a chat with the new A1 champion after he returned home to France. Discover how he prepares for races, what it's like to cope with the pressure at a LAN esports event, and find out about his home sim-racing setup and his favourite cars and tracks.
How did it feel to win your first ever major eSports Championship? To pick up that huge trophy on the stage, and the €6000 cheque?
It feels incredibly good. It was a unique moment, and as you mentioned, it was my first ever win at a major championship on LAN. It is an incredible achievement for me. Especially because I was so disappointed after last year's SMS-R final, which I had a very poor performance at. In a way, I felt as if I wanted to take my revenge for Gamescom 2017, and beat the people who had beaten me that day in Germany.
When I hoisted the trophy and the cheque, the joy I had was tremendous, and I could not actually realise what I had just achieved. In fact, I needed a couple of days to think about that weekend and what had happened there. To let it sink in that I had indeed won the event.
I want to give a shoutout to all the drivers and particularly the drivers that were on the podium with me; TRL Magic Michael and VP Isaac21. The competition level was so high and the battles on track so intense. This championship could not have been this incredible without them.
How did you prepare for the online qualifying races?
In my mind, the objective was pretty obvious, which was to qualify for the offline final. Thus, I just needed to finish my races in good spots in order to reach the final event in Vienna. That was the strategy I've had for the entire online championship.
This championship was also my first one with such a diversity of cars, so I needed to be well prepared for each car of the season. From that, I noticed which drivers I had to pay attention to in each car, which helped me for the final as well, because I knew exactly who I had to beat to win. I basically had two jobs in one. To get through the online season, and to prepare myself the best I could for the final by learning the strengths of the other competitors.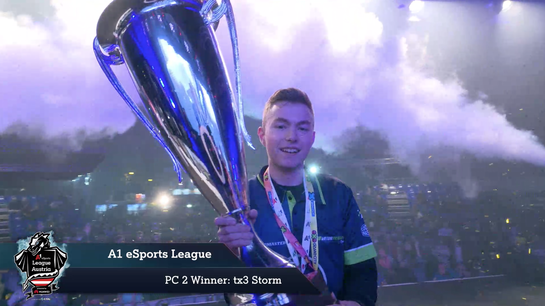 How did adjust your preparations for the LAN finals?
​
It was a pleasure to meet everybody at the venue. Behind the driver profiles in Project CARS 2 there is a person with feelings and emotions. Our passion for sim-racing gathers us as a great family, and this is something you can see because of the quality of the on track battles. We all had great respect towards each other, giving each other just enough room.
Concerning the event itself, the travel obviously means you are not in your comfort zone, so that is something to take into consideration indeed. In my case, I felt great all weekend long, since I knew I had great preparation the last two weeks before the event. I knew I could get a good result there, and had hopes of getting first place of course.
Regarding the rigs, when you drive, you pay attention to what is happening on the track, so you completely forget what is happening around you in the seat. Your focus is on what is happening in the game and in the race.
My teammates definitely helped me to prepare. They gave me a lot of support and I had the whole TX3 family behind me. This was definitely a factor in my psychological preparation.
What's the most important thing that you learned at the Vienna finals about sim-racing in general, and what was the most important thing that you learned about yourself?
Thanks to this event, I have discovered new limits of myself, and I have now the tools to win a major LAN event. This will definitely strengthen my driving abilities by giving me more confidence, especially as I had to try new defensive techniques, and take risks which could have cost me everything. I also learned to be competitive in cars that don't really fit my driving style, which was an essential point for me as I wanted to go over the fact I was fast only in the cars that I like. In the end, I proved myself in many different aspects of sim racing.
What was your favourite thing about the experience in Vienna?
I didn't really have a favourite moment because I enjoyed the whole event so much. Arriving on Friday evening in Vienna, meeting my team mates the next day, the other drivers, the casters, then the championship itself, and of course the winning moment with the celebration. Eventually after the event and Vienna, on Sunday evening, seeing my parents who were so proud of me! This experience was definitely one of the best of my life.
How did your TX3 teammates react when you won?
They were definitely the happiest I've ever seen. Knowing the support they had given me for the event, they were even more nervous than me at some points!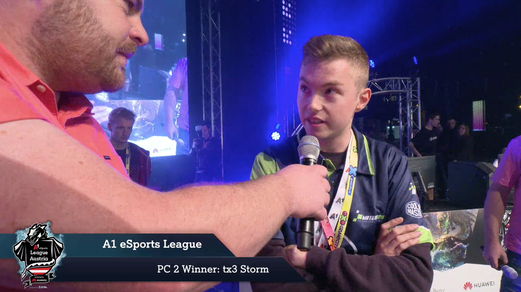 What kind of sim-racing setup do you use at home?
I don't have a full rig unfortunately, I play with the wheel fixed on the desk and a chair. I have the pedals put on an old support. I'm fine with it, but thanks to the win in Vienna I will finally have the funds to improve my setup and get a proper rig.
I have the Thrustmaster T-GT Wheel with the T3PA Pro pedals . Nothing more, nothing less.
What are your personal goals for the next steps in your sim-racing career?
I want to become an even better driver. I will keep doing what I am doing because I have finally found a good approach for each of my races, so from now I will give my best in each of the races and championships I will attend, with the hope of getting even more wins.
What are your favourite cars & tracks in Project CARS 2?
There are many different combos I like. As a Le Mans fan, LMP1 and especially the newest LMP1 cars from the Spirit of Le Mans DLC are my favourite cars, and Le Mans is my favourite track, and my best track as well. I always get good results there, and it is the track where I scored my first ever win in a pro championship.
I also have a lot of fun with IndyCar. The car feels insanely good on Project CARS 2 and when you take it for a drive at Long Beach you definitely enjoy it. I like Spa very much as well, as I went to the Belgian Grand Prix back in 2015, and I have always enjoyed driving this track ever since. It's also a track where I feel very comfortable.

​You can follow Storm on Twitter, @TX3_StorM.