For Round 10 of the fixed setup Project CARS eSports series, we travelled down under to tackle Aussie motorsport's most iconic car and track combination: V8 Supercars at Bathurst's Mount Panorama
. Many drivers have a love/hate relationship with this incredible course which snakes it's way through the Australian countryside like a rollercoaster. It's massively fast, hugely challenging and incredibly dangerous. Making for one of the most difficult tests that our drivers have faced all season long.
In the PC Division, this was the final round of season, bringing the series to a close and deciding our champions. Console drivers have to wait a few more weeks to find out who has won there, with a Re-Run of Round 6 still to come.
Read on to see who came out on top in Round 10, and find out which PC Division team is taking home €5000 in prize money!
​
PC DiVISION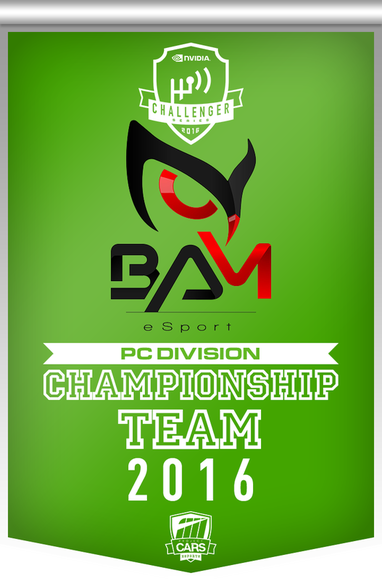 Once again, it was a battle between BAM.Thrustmaster and SDL Motorsport by Logitech G in the PC Division. BAM came into Round 10 with a decent lead over SDL, so all it had to do to take home the big €5000 prize was stay close to SDL in this final leaderboard.

BAM's drivers achieved that and more, outscoring SDL in Round 10 by 97 points to dominate the final event and take home the cash. SMS staff will be in contact with the BAM team manager in the next few weeks to arrange the transfer of the €5000 prize, which is to be shared amongst the team's drivers. We will also arrange delivery of the team champion trophy soon.

It was a close battle between BAM and SDL all season long, with both teams showing amazing consistency throughout the year. In the last few rounds, BAM edged ahead to take take a deserved championship victory.

Revolution Sim Racing Alpha also had a great year, with Cluck almost singlehandedly carrying the team to third place in the standings.

In the drivers leaderboard, BAM's Khaki takes the championship and will receive an awesome trophy to celebrate his victory. SMS staff will contact Khaki in the next few weeks to arrange the delivery of the trophy. It was an amazing performance from him this year. He finished on the podium in 9 of the 10 rounds, taking 7 victories along the way, making a huge contribution to his team's success.

Special mentions must also go to SDL's Mangator and Masa who finish the year 2nd and 3rd respectively in the drivers championship. They battled hard all year long, taking 14 podiums and 2 victories between them, but it wasn't quite enough to beat BAM in the end.

Thank you to all of the teams and drivers who competed in the NCS PC Division this year. You provided some fantastic, close battles throughout the season and we look forward to watching you compete again in the future!

Drivers eliminated from the Round 10 results on PC were:
- [CAR]@Brembo: Significant contact with the walls in the first sector
- GTurbo-RS: 3 wheels off-track at the exit of turn 2
- TSRacing_Atho: Registered to compete on console, so PC times cannot be counted
- [R.S.I.] Monkey: 3 wheels off-track at the exit of turn 2
- Headpain: 3 wheels off-track at the exit of turn 10
​
---
CONSOLE DIVISION
There is still one more round to go in the Console Division after Round 10, a Re-Run of Round 6, so the champions have not been decided just yet.

With that said, it was another solid week for Team Shark Racing, as it takes a firmer grip on the Console Division. Zoky took the win, while teammates Yinato and Atho picked up decent points in 5th and 7th.

Mendonca grabbed second place for VP-Drivers with his best ever result, whilst Joker_1 scored the first ever podium in Project CARS eSports for Team Stik Racing in third.

After Team Shark, Psynchro were the next biggest points scorers in Console Round 10, taking 74 points with one of the team's strongest ever rounds in the NCS. That was enough for the team to move up to 4th place in the team standings, pushing eSPORTS+CARS back down to 5th. The top 3 teams look comfortable though, with Team Shark leading ahead of SDL Motorsport and VP-Drivers, with just one more round to go.

Drivers eliminated from the Round 10 results on Console were:
- Unity_SmOKky: Ghost time did not match leaderboard time
- Mcraelegend1234: Ghost time did not match leaderboard time
- GIRLS_R_Fast69: Ghost time did not match leaderboard time
To see the full results of this round and the season so far,
please visit the Series page
.
​