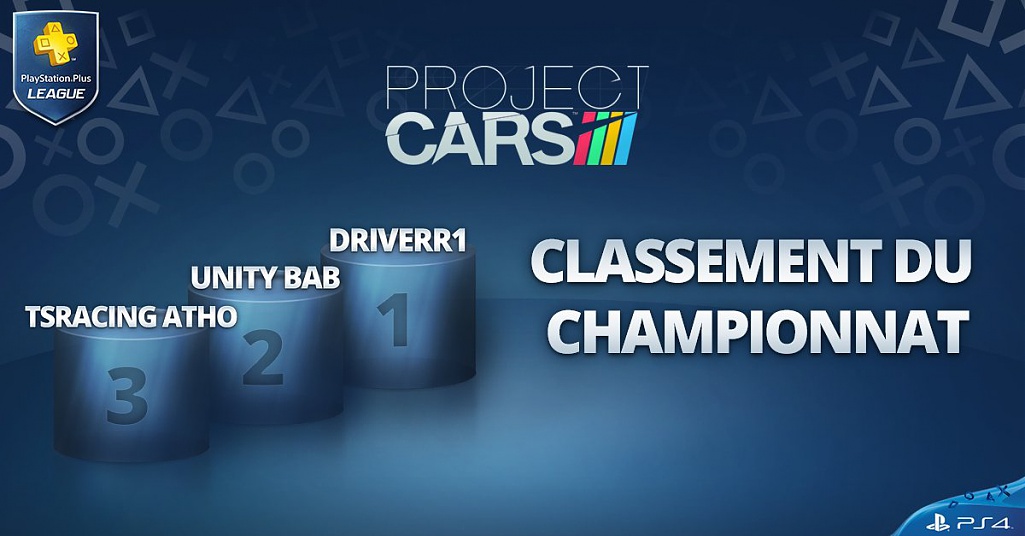 Congratulations to the winners of the first ever Project CARS PlayStation Plus League.
The
PlayStation Plus League
is France's biggest car simulator competition, open to all Project CARS players on PlayStation 4. After months of hard battles, which began back in late 2015, the final podium has been decided. It's safe to say that there were some familiar faces at the top of the pile.
DriverR1 took home the championship title after many dominant victories. It's proving to be an almost unbelievable year for DriverR1 in 2016. Not only does he have the PS+ title firmly in his grasp, but he has also continued to take win-after-win in the
ESL Project CARS
series. He hasn't featured in our
Logitech or NVIDIA Series
, but with so much success elsewhere, it's easy to see why DriverR1 has remained the man to beat in many Project CARS events.
Second place went to Unity BaB, another familiar face in the Project CARS Esports scene, and one of the driving forces behind the growing Unity team. Unity is doing a solid job at the moment in the NVIDIA and Logitech Series, but perhaps BaB's performance here can inspire them to an epic second-half of 2016. The team currently lies sixth in the NVIDIA Challenger Series console standings, and also has lineups in third and sixth in the Logitech G Championship Series.
Third place in first PS+ League championship went to Team Shark Racing's Atho, who also finished as the runner-up in 2015's SMS-R Championship. It's yet another terrific accolade for Atho and his team and we look forward to seeing how they will fare as we approach the final run-in in the NVIDIA and Logitech Series. Atho currently has the lead in the console division of the Logitech G Series, and Shark also leads the team standings. It's a similar story in the NVIDIA Series too, where Shark currently leads the title race, with Atho second in the driver standings, just behind teammate, Yinato.
The second-half of the Project CARS Esports season begins this weekend, as we return from our Summer break with Round 6 of the
Logitech G Championship Series
: the Ford Fusion Stockcar at Watkins Glen. Enter in-game via the Community Events screen between Friday August 5 - Monday August 8.