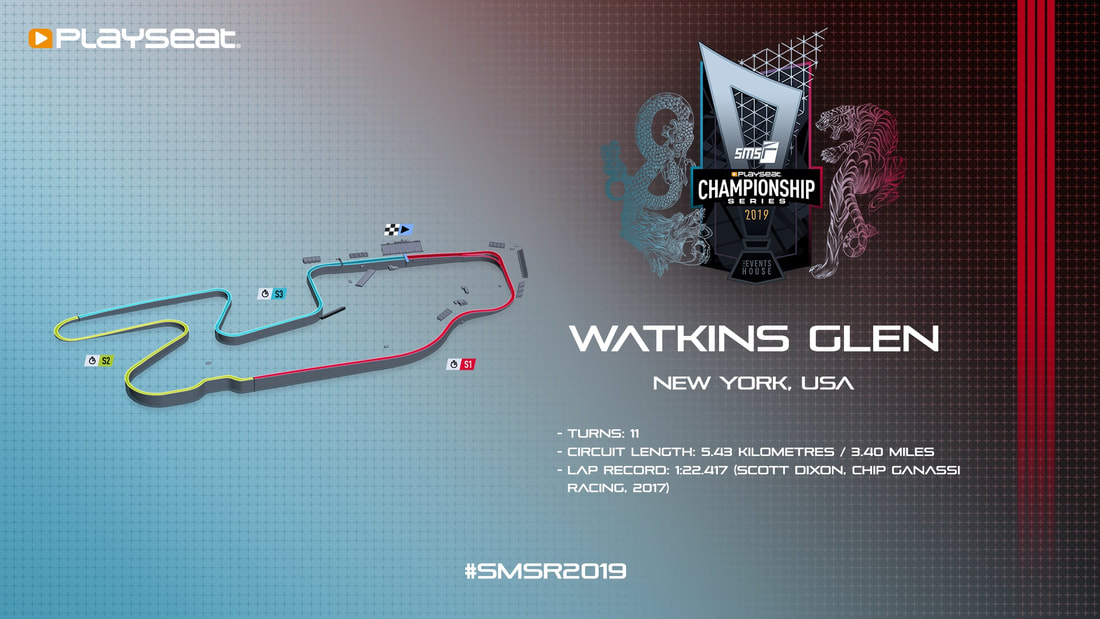 After the very modern trappings of Fuji Speedway, we returned to a classic motorsport venue for the final online round in the Playseat® SMS-R Series. The world's fastest Project CARS 2 esports drivers battled at Watkins Glen. This famous American circuit has hosted everything from Formula One to IMSA, and its flowing layout is well suited to both the Pro Class GT3 machines, and the Touring Cars driven by our Challengers. From sweeping uphill corners, to downhill plunges, hairpins and chicanes, Watkins Glen has a bit of everything, and almost all of it happens at very high speed.
We arrived at the Glen knowing that this race would decide which teams and drivers will make it to the Finals to compete for €20,000 in cash prizes. Only the top four Pro teams and top eight Challenger drivers can progress from here. After the previous three rounds Team ACR were already safely though to the Finals in Pro Class, leaving three spots still up for grabs. Team Redline, VP, Lazarus, Oscaro and Veloce all came to the Glen with a chance to make it into the top four, but who would be successful?
In Challenger Class FA Kristian Kwietniewski and THR Operator looked safe after the first three rounds, albeit with neither mathematically confirmed as finalists just yet. All of the other drivers in the Class also came to Watkins Glen with their fate still in their own hands. Dalking was the driver on the bubble in eighth place overall after Race 3, but Khaki and Dornieden just ahead weren't out of danger just yet, and Villalobos behind was in good form after coming second at Fuji.
Watkins Glen was a crucial race in both classes, so read on to see who has made it through to the
Finals at Mercedes-Benz World
.
Don't forget to grab your tickets to see the Finals live and in-person on Saturday May 11.