2016 is almost upon us and what a year it has been in the inaugural world of Project CARS eSports!

SMS-R DRIVER NETWORK CHAMPIONSHIP
Season One has been packed with intense rivalries, controversy, awesome prizes, new partnerships and stunning victories.
Following Project CARS' release in May of this year, the momentum into the world of eSports quickly grew, beginning with the in-game SMS-R Driver Network Championship. With over 10,000 players competing in every round, it has quickly become one of the most hotly-contested championships in all of sim-racing with no less than eight major eSports teams battling it out to lead both the Driver Standings and Team Power Rankings and a rivalry developing for domination between
Team Shark Racing
and
SDL Motorsport
.
With only two rounds remaining before the winners are determined we can't wait to see which driver and which team will come out on top and today we're proud to announce in addition to the previously-announced trophies there are some additional unbelievable prizes from our friends at Thrustmaster...

1ST PLACE

Thrustmaster TX Racing Wheel Servo Base or Thrustmaster T300Racing Wheel Servo Base

T3PA

TM Leather 28 GT Wheel Add-On

TH8A Shifter AddOn

MVP

Thrustmaster TX Racing Wheel Servo Base or Thrustmaster T300Racing Wheel Servo Base




T3PA




TM Leather 28 GT Wheel Add-On​

2ND PLACE

Thrustmaster T3PA Pro Pedals

3RD PLACE

Thrustmaster TH8A Shifter
---
ESL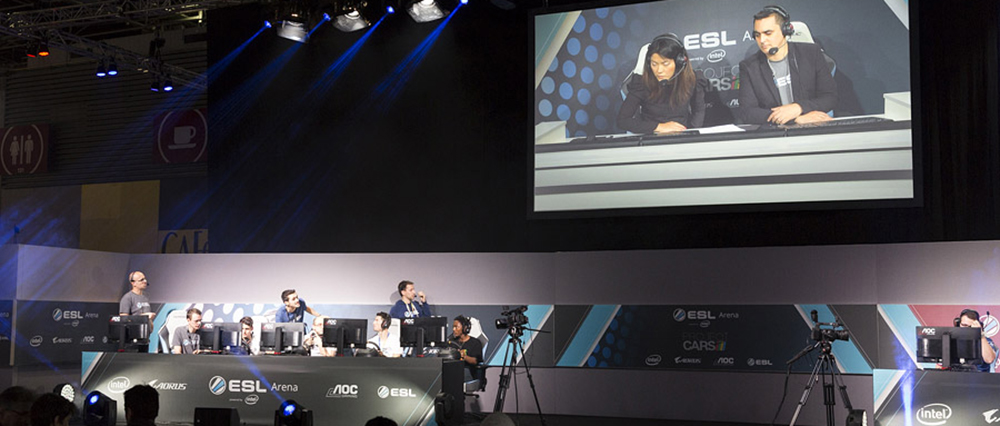 With the huge amount of passion shown for the SMS-R Driver Network Championship, Project CARS was soon picked up by the world's leading eSports platform - the Electronic Sports League.

There, each Sunday, Project CARS players compete on all three platforms for a weekly prize pool of €150 and points that can take them into the Monthly Finals where a total prize pool of €450 awaits!

With continual tweaks to the format and work behind the scenes to grow in 2016, Project CARS has matched big names like FIFA and Starcraft 2 each week to become ​the most successful racing game within eSports.
---
LIVE EVENTS
Alongside virtual events, Project CARS eSports toured around the world throughout 2015, starting at Gamergy in Spain before taking in Gamescom in Germany, Eurogamer Expo in the UK and Paris Games Week in France.
With every event, the spectacle and the competition increased, culminating in Project CARS taking over the ESL Arena at Paris Games Week for an epic all-day tournament between the fastest drivers from all across Europe.
With a team of shoutcasters streaming on Twitch, giveaways to the crowd, live music, developer meet-and-greets, and exclusive video content debuted, make sure you attend one of these in 2016 to get the full experience!
---
2016
Below is a brief outline of what to expect in the coming year...
eSPORT PLATFORMS
With Project CARS now available on time2win, PlayStation Plus LEAGUE, and Liga Oficial, there are even more ways to play and earn both real cash and prizes. Our aim is to continue supporting those experiences and expand onto new platforms in 2016.

SMS-R DRIVER NETWORK CHAMPIONSHIP
The 2016 SMS-R Driver Network Championship will feature brand-new locations and car classes, as well as an additional CHALLENGER SERIES for newcomers featuring lower-spec vehicles and fixed setups. We'll have more info on Season Two soon.
ESL
We're working with both players and the ESL to make both the Weekly and Monthly events more authentic and more engaging, with continual tweaks to the ruleset and larger changes behind the scenes to the way they're played.


LIVE EVENTS
With a new year of trade shows and expos ahead, there will be plenty of opportunities to take part in one of our eSports Live events, meet the developers and a few celebrities, and pick up some swag.