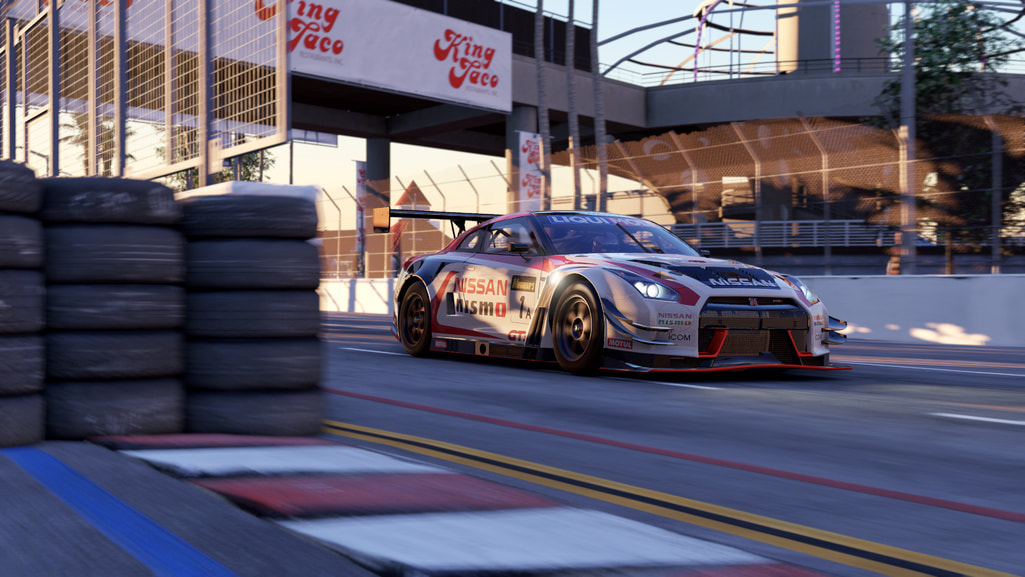 Racing doesn't get much more challenging than this. Round 6 of Actrollvision's Triple Threat League in Project CARS 2 took to the streets of Long Beach. Close walls, narrow concrete and big bumps make this classic US circuit one of the biggest tests of nerve in sim-racing. One wrong move can wreck your race, and the race of others around you. The Actrollvision League sees everyone from novices to pros testing their skills across three separate races, but which drivers would master the streets, and which drivers would end their competition in the wall? Read on to find out.
First to take on the challenge were the league-racing novices in the GT5 class. Bluesboy71 continued his dominating form, by securing pole. He had a fantastic start and managed to get to turn 1 unchallenged, which allowed him to control the race from the front to take the chequered flag at a canter. The same could not be said for second and third. Tezh and Marshalljm were locked in a mighty battle. You could have covered these drivers with a blanket for 25 minutes of the 30 minute race, but contact along the back straight handed Marshall second spot and Tezh then had to deal with Raccoon21s pressure which he could not withstand. Marshalljm and Raccoon21 finished second and Third. The Driver of the Day was of course Bluesboy71, and he's also won himself an early promotion up to the GT4 league - if he wants it.
There were no surprises on the front row of the grid in the intermediate GT4 race this week. Mrmahoniii and Papano continued to dominate proceedings, but we had a ray of hope when Bubblebart put his Ginetta in third, within a tenth of the leaders. MrMahoniii got a fantastic start and led into turn one from Papano, and the front 5 got through cleanly. The same could not be said for the rest of the field. Imagine Formula One's 1998 Belgian Grand Prix only with less rain and you won't be disappointed. It took 5 laps of solid graft from Papano to break down MrMahoniii's defence, and he then sailed away to victory. New fan favourite Bubblebart completed the podium, and also picked up Driver of the Day.
In the pro class GT3 race, Long Beach proved to be a great leveller, bringing the drivers closer together than in previous races. Blankfile took this opportunity and ran with it, grabbing a full house of awards for his efforts. Pole position, race victory, fastest lap, and Driver of the Day. He really had the R8 LMS dialled in, while the championship leader, DriverR1, was otherwise occupied with something called "World's Fastest Gamer." DzsCatfish was looking to close that championship gap in Driver's absence. He took second in the end, but never really looked like challenging the Belgian, Blankfile. We had an extra surprise too, in that a consistent drive took Borneo7 and his R8 LMS onto the podium.
​
Make sure you join the racing action next weekend, and
sign-up for the next ESL Go4 Cup
.
If you'd like to find out more about the Actrollvision league,
please visit this page
, or contact Actrollvision on
Facebook
or
Twitter
.