---

The Power Rankings are a statistical record of every driver that has stepped onto the podium in any esports racing event, irrespective of game or platform.

The aim is to give an impartial overview of the best drivers around the world, what they've achieved, and how they stack up against others.

The Power Rankings are updated regularly after major esports events.

We hope you find these interesting as esports racing continues to grow to new heights with the introduction of the DiRT World Championship, A1 eSports League, McLaren Shadow and more.
2019 PLAYSEAT® SMS-R SERIES POWERED BY EVENTS HOUSE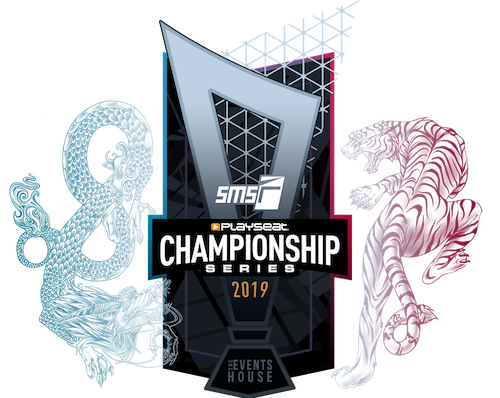 The 2019 Playseat® SMS-R Series, Powered By Events House is the next major Project CARS 2 esports competition, and will take place in the PC version of the game with €20,000 in prizes up for grabs.

In previous seasons we've seen teams like Oscaro and BAM win big cash prizes in spectacular hard-fought rivalries. In 2018, our previous SMS-R winners faced stiff competition in new tournaments, such as the Renault esports Series and the A1 esports League, battling the likes of Team Redline, VP Gaming, TX3, G2, Veloce and many more.

​You can expect to see many of these teams fighting for the title in the 2019 SMS-R Series.
Project CARS 2 was one of five games featured in McLaren Shadow.

This competition was McLaren's hunt to find the best all-around sim-racer to join their official esports team, and represent their brand across the sim-racing world. This incredible prize will now take the winner around the world, and introduce them to the world of real motorsport as well, with behind-the-scenes access to the McLaren Technology Centre, & some of the world's biggest motorsport series.
Exclusive to Project CARS 2.

After a series of online qualifying rounds in the McLaren 720S, the fastest drivers flew to Paris Games Week to battle for a place in the McLaren Shadow semi-finals.

Check out the results and catch-up with the live streams at the link below.

This tournament was owned and operated by Logitech G.
---
A1 ESPORTS LEAGUE SEASON 2
---
ESL's A1 Esports League returned to ​Project CARS 2 in 2018.
The competition was open across Europe, with qualifiers on PC and PS4.
​The prize pool at the finals was €15,000.

This time the action switched to asphalt racing.
Focused on the amazing road and race cars of Mercedes-Benz.

Catch-up with all of the action from the finals, and the results, at the link below.
RENAULT ESPORTS SERIES - EXCLUSIVE IN PROJECT CARS 2
---

This UK competition challenged Britain's best sim-racers to show their talent in Renault Sport's thoroughbred racing cars in three in-game Community Events. The fastest drivers progressed to online Quarter and Semi-Finals, before a live Final at the 2018 British Grand Prix.

The overall winner received a full day of experiences at the PamerSport race school.

​This tournament was owned and operated by Renault Sport UK.

The British Esports Association has announced first details of its inaugural British Esports Championships aimed specifically at school and college students.

A pilot took place in February 2018, running across three games: League of Legends, Overwatch and Project CARS 2 and involved a wide demographic of students aged between 12 to 19 across four different types of educational establishment: schools, further education colleges, library hubs and alternative provision (pupil referral units).

Weekly matches took place, with fixtures pre-arranged, and time was allowed for schools and colleges to hold their own internal trials, in order to put together their most competitive teams.

​The national championships will be followed by a full academic year of competition from September 2018 until July 2019. It's hoped the grand finals will take place in August 2019 at the UK's largest gaming festival – Insomnia – at the Birmingham NEC.
​

---

"Ever since the release of the original Project CARS title, we've seen the franchise played by a wide variety of players including some that hope to one day enter the world of real-world competitive motorsports. As well as playing the game for fun, they also use it as a training tool to learn the skills and attitude needed out on the track, or supplement their existing talent in karting to further enhance their racecraft.. The British Esports Championships therefore is an exciting opportunity to further discover those individuals out there that potentially are the next Lewis Hamilton, whilst also providing a platform to encourage teamwork and give the next generation the skills needed to compete collaboratively in the esports world."
- Andy Tudor, Chief Creative Officer
| | | |
| --- | --- | --- |
| | Represent your region in monthly time attack contest in the Community Events mode in ​Project CARS 2. | |
SEASON FOUR has arrived!

After a long pre-season recovering from the World Final at Gamescom and ensuring the esports functionality built into Project CARS 2 launches successfully, we have been putting the finishing touches to what promises to be our largest season ever.

Season Four is the all-encompassing term for all features, events, improvements, and competitions occuring through 2018...

Starting with the release of Patch 3, the much-anticipated Online Championships game mode will become available and this will be the backbone upon which all Major series are built
We are also introducing the World Time Attack competition which aims to find the world's fastest drivers and the fastest region. Not only will this be a great showcase of talent for players out there but also a great recruitment opportunity for teams wanting to build a strong roster
Next, we've done a number of nerfs & buffs to the Competitive Racing License that will aid players get to that elusive S4000 rating
Fans will be able to download official esports liveries for their favorite teams when the FUN PACK becomes released - including two new faces joining us from the world of Forza Motorsport ;-)
And finally, we're doubling down on our commitment to esports with further expansion into Korea, China, and Japan. This has started already with the first PSR e-Sports Championship, as well as the ability to play Project CARS at Viveland in Taipei

For more info, please check out the official Season Four page and thanks once again for your continuing support!
ESPORTS TEAM LIvERIES
Fans can start getting excited at the chance to represent their favorite team via official liveries for several of the top esports teams available in each Project CARS 2 DLC Add-On. These include some familiar faces, and some newcomers from the Forza Motorsport community - F4H Motorsport and JapSpeed Racing.
PRO TIPS
| | | |
| --- | --- | --- |
| | Get tips from Red Bull 5G winner Ralphy (ESPORTS+CARS) and two-time Le Mans winner Tommy Milner... | |
GET YOUR ESPORTS LIVE VIP PASS


Get your hands on the Collector or Ultra Edition of Project CARS 2 and inside you'll find an Esports Live VIP Pass. Take this to any event where Project CARS is in attendance and display it to Slightly Mad Studios staff for preferential treatment, including fast pass to the front of the line, getting to meet the developers, and more.