The inaugural season of the SMS-R Driver Network Championship is now over and the first drivers and teams have been inducted in the Driver Network Hall Of Fame!
After a rigourous year of racing, full of passion, controversy, blistering speeds, rivalry, and the rise of some truly masterful driver and teams, the 2015 season has proven that Project CARS is the ultimate destination for the fastest sim racing pros.
WINNING DRIVER
After a consistent and dedicated performance throughout the year, French driver SoniK from SDL Motorsport earned a staggering 653 points to deservedly lift the Driver Network Cup and take home a TX Racing Wheel Servo Base, T3PA pedals, a TM Leather 28 GT Wheel Add-On, TH8A Shifter AddOn courtesy of Thrustmaster, in addition to an Intel Core i7 Processor and Nvidia GTX 980 Ti Graphics Card that set him up for 4K and VR in the year ahead.
Ever the fiery character, SoniK started the season with podium finishes in the first six rounds, establishing himself early on as a force to be reckoned with.
As we tightened up our own rule set, enforced stricter track cutting regulations, and the competition from fellow drivers increased, SoniK's performance in the middle of the season dropped off somewhat as others such as Yinato, FinPro, and F1-Masa started to show what they were capable of.
Heading into the
Mid-Season Split at Gamescom
it was main rival Atho from
Team Shark Racing
that held the title spot and following our live event we then saw a re-invigorated SoniK and a return to form with a series of Top 5 finishes that saw him overtake Atho's lead.
With consistently high finishing positions rounding out the latter half of the season, SoniK went into the Final just 13 points ahead and with a lap time just 00:00.348 faster than Atho, he secured the overall victory to take home the Driver Network Cup and prizes from Thrustmaster, Nvidia, and Intel.
Congratulations to SoniK, the battle between himself and Atho has been incredible to watch and we can't wait to see more in 2016!
WINNING TEAM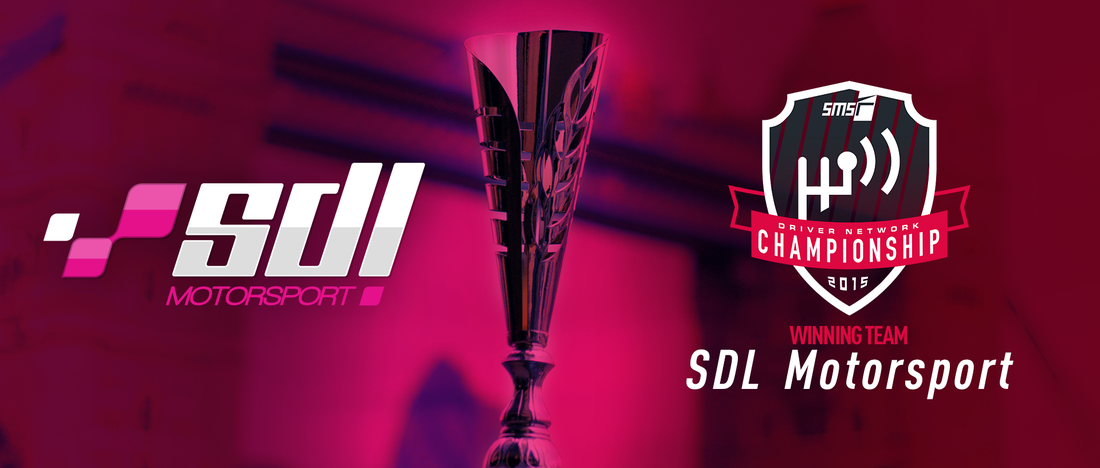 Having been involved in sim racing since 2008, the SMS-R Driver Network Championship saw the biggest change and growth in SDL Motorsport's roster ever with key figures such as Yinato and EvoniK leaving and alliances being formed with prior GT Club members Racer and Atho to create main rivals Team Shark Racing.
With the team now decimated, top drivers Rossi46, Rotax, and SoniK continued to persevere throughout the season in the face of increased competition from the likes of Alternate aTTaX and German Technologies, recruiting newcomers such as Mixi125, Mihalo, and Mangator.
With more points being put on the board in each round, SDL Motorsport started to rise through the Team Power Rankings but remained 218 points behind Team Shark going into the final round and it seemed a foregone conclusion that they'd win.
However, in a last-minute swoop, SDL managed to secure long-standing privateer F1-Masa into joining the team wherein the points he'd been earning all season were donated to the team. With eight SDL players finishing in the Top 20 at Dubai, this then resulted in a reversal with SDL Motorsport taking home the SMS-R Team Trophy having finished almost 100 points ahead.
Congratulations to SDL Motorsport - it's been a rollercoaster of a year for them and having now become sponsored by Logitech, we expect great things from them in the 2016 season.
MVP
With a firm determination to remain independent, privateer schumi170388 has been the most reliable player all season.

​With 13 finishes in the Top 20 all year, schumi has shown that consistency is king and has remained focused on laying down fast laps on the track as opposed to getting embroiled in driver rivalry off it.

Congratulations to schumi170388 therefore who takes home the MVP Trophy along with prizes by Thrustmaster, and a Nvidia GTX 980 Ti graphics card.

---
Below are the final driver and team standings for the 2015 SMS-R Driver Network Championship season...
| | | | | | |
| --- | --- | --- | --- | --- | --- |
| RANK | | DRIVER | TEAM | PLATFORM | PTS |
| 1 | - | SoniK | SDL Motorsport | PC | 653 |
| 2 | - | Atho | Team Shark Racing | PS4 | 620 |
| 3 | - | Yinato | Team Shark Racing | PS4 | 449 |
| 4 | - | schumi170388 | - | PC | 349 |
| 5 | - | Racer | Team Shark Racing | PS4 | 320 |
| 6 | | FinPro | - | PC | 315 |
| 7 | ↓1 | Rossi46 | SDL Motorsport | Xbox One | 314 |
| 8 | - | JP02 | Team Shark Racing | PS4 | 194 |
| 9 | | Masa | SDL Motorsport | PC | 170 |
| 10 | | Rotax | SDL Motorsport | Xbox One | 166 |
| 11 | | Gturbo | Starlux | PS4 | 162 |
| 12 | | SennasGhostP1 | - | PS4 | 157 |
| 13 | NEW! | Mihalo | | Xbox One | 125 |
| 14 | | Mangator | SDL Motorsport | PC | 124 |
| 15 | | boMbaY | Alternate aTTaX | Xbox One | 118 |
| 16 | | Anto | BAM eSports | PC | 114 |
| 17 | | LiQuiD | German Technologiez | Xbox One | 114 |
| 18 | | Commando | BAM eSports | PC | 112 |
| 19 | | Carburateur_83 | - | PS4 | 105 |
| 20 | NEW! | Mixi125 | | PC | 92 |
---