One of our returning competitors from 2015 is BAM e-sport, a French team that has been hugely successful in all areas of the Project CARS scene, from SMS-ran championships, to ESL, and the Apex Online Racing league.
In 2015, BAM finished third in the SMS-R Driver Network Championship team standings, despite not competing for the full duration of the year. Drivers like Khaki, Dyndas, Tuscan, Flawless, and many others compete for BAM on all fronts, taking regular wins and podiums along the way. In the 2016 NVIDIA Challenger Series, the team currently leads the Team Standings after 4 Rounds of the season.
We spoke to Pierre Ratier, better-known as BAM Mewt, to find out what makes this remarkable team tick...
How and when did your team members first become interested in sim racing?

We started out with a number of simulation games. The first on console was

RacePro

, and then

Forza Motorsport 3

, around 2009 and 2010.

Which racing games did the team compete in before Project CARS?

In addition to

RacePro

and

Forza

, we also raced in

iRacing

on PC, with pilots like Wolfgang Reip, who won the GT Academy in 2012. We've also made a few appearances in

Live for Speed

and

rFactor

.

Why did you enter the 2016 Project CARS championships?

We decided to be present this season after we had a taste of an incomplete season last year, when we retired part way through the year. We decided to come back thanks to the equipment brought by our sponsors like Thrustmaster, and because of the good work done by Slightly Mad Studios in organising the championship.

How do the drivers prepare for each round of the two Project CARS Esports Series? Does each one require a different approach?

I know that our players like Khaki, Dyndas, Hornet, and Flo les Gazz drive a lot before each round so that they know the track inside-out. Some of our other members, like Flawless, or Anto, have the capacity to do a hotlap while spending less time practicing compared to other top drivers.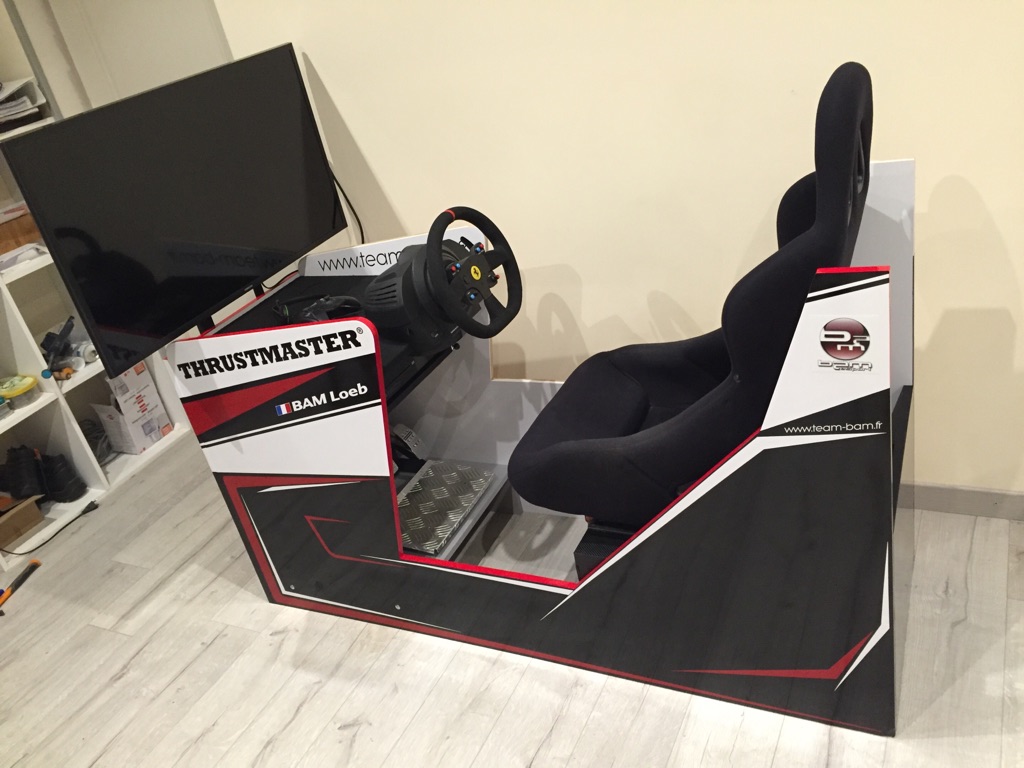 How do you rate the team's chances of winning a Series this year?
In the PC Division [of the NVIDIA Challenger Series], our chances of victory are quite high. This is due to the fact that our PC pilots are used to demanding simulation games and driving with a wheel. In the Console Division, our situation is a bit more complicated because most of our drivers are used to playing with a gamepad, and they need some time to adapt to driving with a wheel. However, I'm confident about the second part of the season.
What would winning a championship mean to your team?
We are an Esports team, so competition flows in our veins. Winning a major competition would mean we can offer more to our players, fulfill our commitments made to our sponsors, and also be present as one of the major actors of French and international sim-racing. We clearly have the intention of winning everywhere where we are present. That is our policy, and we are proud of it.
Not only do your drivers compete in the NCS and LGCS, they have been successful in the Apex Online Racing League, and ESL Project CARS events, too. What is it about BAM which makes the team successful in so many different events?
It certainly is a fact that we have had some great results on several fronts. I think what is giving us that opportunity is the passion which our guys have for competition and performance. Winning raises the motivation of the whole team, like a virtuous circle which animates us.
French sim-racing teams are amongst the fastest drivers in the world right now. What makes pilots from France so damn fast?
I think it's simply because French people were one of the first to believe in the Esports potential of racing games. The teams dedicate themselves to it, and are able to find sponsorships, which put the drivers in the spotlight. The French community is very competitive in all Esports.
Have any of your drivers raced any cars in real life?

Yes we have a few pilots who have driven, or are still driving, in real-life at a high level, like Tuscan, Anto and Psygnosix.

TUSCAN

2012: Audi Endurance Experience Champion (Team Xbox): 1st at Nogaro, Magny Cours and Paul Ricard

2013: Runner-up, Young Mitjet Series 1300

2015: Runner-up, VTR Tour

2016: Team Driver for NARCCA, VTR Tour Team

ANTO

2012: Audi Endurance Experience Champion

2013: 24h of le Castellet Champion

2015: VTR Tour Finalist

PSYGNOSIX

2014: French GT Academy Finalist

2014, 2015: Two Times VTR Tour Finalist
What cars do your team members drive in real life?
Anto has a Renault Clio RS 200. I myself have a 2002 Audi S4. Hornet has a BMW 135i. Some of our team members have motorbikes too, but we are quite prudent in real life.
What is each team members' favourite car and track in Project CARS?
Our team loves Spa Francorchamps with GT3 class race cars, because of the balance of the cars and the myth of that race track.
Anything Else?
A huge thanks to our sponsors this season: Thrustmaster, Gladiasport, DLCompare, 7even Design, and Dream Team Car.
---
The next event in the 2016 season is Round 4 of the Logitech G Championship Series in the Audi R18 E-tron Quattro at the Le Mans Bugatti Circuit. It begins Friday, June 17, 2016, so don't forget to visit the Community Events tab in the game's main menu to take part in the next round yourself.
You can also enter the ESL Project CARS online eSports cups to compete for real cash prizes in the game every week. For more information, select your gaming platform on the ESL website.
Come back to the Project CARS Esports website soon, when we'll be profiling another of the fastest sim-racing teams in the world. You can also check out the latest news, standings and announcements.