VIRTUAL DRIVERS BY TX3

The SMS-R Driver Network Championship is the ultimate test of sim-racing speed and skill. This in-game tournament has run throughout 2015 since the launch of the game, and has attracted some of the best pro racers on the planet, competing for individual glory and the chance to lead their team to being crowned champions in the contest's inaugural season.

The pace has been incredible all year long, so we want to give all of these amazing teams an opportunity to put their name in the spotlight. This time, it's the turn of Virtual Drivers by TX3, an Xbox One and PC eSports team with a gritty determination that has made them one of the strongest outfits all season long, including a podium finish in the ESL Arena at Paris Games Week.

We spoke to Stazer from TX3 to find out more about the team's history and its success...
How did you first get interested in sim racing?
Team Virtual Drivers by TX3 was created in 2006, originally on the Xbox 360 and was intended to bring together players in a team to share everyone's knowledge and help all of us to get even faster than we were as individuals.

Which racing games did you play before Project CARS?
Previously our main games were the Forza Motorsport series on the Xbox 360 and Xbox One and rFactor on PC.
We were very happy when Project CARS emerged because we finally saw an opportunity for sim-racing eSports to be made more visible to the public.

Why did you choose to play Project CARS?
Project CARS is entering the more mainstream side of eSports which other racing games haven't done before. It was a great opportunity for us to gain very good visibility for our team and our brand awareness. Of course, it's a very pleasurable game too!
Project CARS is now the best game on Xbox One to play with a wheel and we couldn't even conceive of playing anything else.

What do you like the most about Project CARS?
The graphics are beautiful, and the suspension physics are very realistic. The game plays beautifully with the Thrustmaster TX Wheel as well.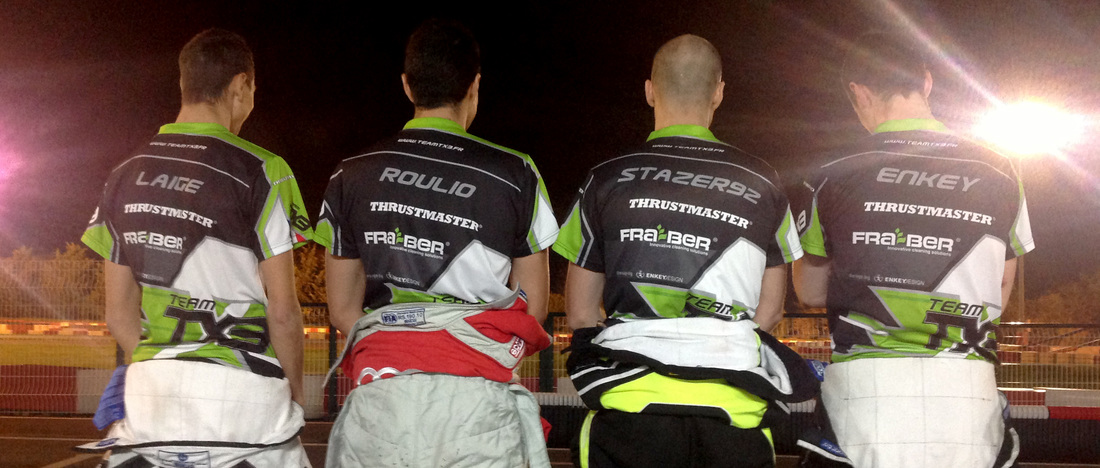 How do you prepare for each round of the Driver Network Championship?
In all honesty we have not trained too much. We have treated this first season as a voyage of discovery, with an unpretentious attitude, just to have a good time. Along the way, we have gained the support of some new partners, so we intend to be much better prepared and more efficient in the future. You can count on us!

Who tunes the cars for your team? Do you work on setups together?
During this season we've had a group of 'adjusters' preparing our cars for all of the online competitions. After that, the drivers come together to fine-tune these settings to their own way of driving. We're more used to racing head-to-head than the hotlap system used in the SMS-R. It's quite easy to be efficient on a hot lap, but it is still very difficult to be fast when the big day arrives and the pressure is on, so that's what we are always working towards.

How do you keep the team motivated?
Our team has been around for a while now, so we are just as much friends as we are virtual drivers. That means that the internal challenge to beat your friends is often the best motivator! When a friend is launching a challenge against you, you can always be ready to fight it!
For the ESL Project CARS event at Paris Games Week, JeanBonneau and I challenged each other to qualify for the event only three days before without any training, and we managed to pull it off!

How do you think your team has done in the Driver Network Championship so far? Are you pleased with the performance?
Early in the season, we were a bit disappointed with the behaviour of some of the other teams, so we haven't taken the first season super seriously, playing more just for fun. Next season will be different ;-)
What did you think of the Project CARS Paris Games Week event? It must have been great to have a TX3 driver in the top 3!
It was very good! It was a great event that I would recommend to everyone to come and watch or even participate in the future. TX3 Jean Bonneau's second place was a great result for us as well, especially considering our lack of training! We want to thank everyone who was involved in organising it, because sim-racing is a passion for all of us.

Have you raced any cars in real life?
Yes, I work in motorsport events, so I have driven a lot of sports cars on circuits and I've raced in karts and Renault Clio Cup as well.
There's lots of real racing experience in the TX3 team. We have one SEAT European Supercopa driver, one RCZ Racing Cup driver, four kart racers, and one NASCAR Euro Series driver. Not bad!

What car do you drive in real life?
I have two American cars and one European, but I'd prefer to keep them a secret!

What's your favourite car in the game?
I prefer the lower speed cars, like the Renault Clio Cup and the Ginetta GT4. I'm old for an eSports sim-racer, so I need to be able to see the track! The BMW M4 is my favourite car in real life.

What would you like to see added to Project CARS in the future?
The important thing for our team is the future of sim-racing eSports. We'd like to see improved tools for spectating and broadcasting races and maybe some new disciplines that will add even more interest for the public, for instance Rallycross. More improvements to the tyre model would be nice too.