UNITY MOTORS RACING
The SMS-R Driver Network Championship has attracted top eSports teams throughout its inaugural season in 2015. From established outfits like SDL Motorsport and Virtual Drivers by TX3, to newcomers on the scene inspired by the insane speeds and level of pro competition that they have seen in Project CARS.
One of those newcomers is UNITY Motors Racing, a French team less than a year old, but still laser-focused on achieving eSports success in Project CARS. Inspired by its early achievements in the ESL Project CARS Go4 Cups, the team has now started to enter the SMS-R Driver Network Championship rounds too, building up some experience before it enters Season Two in 2016. The early signs are extremely positive, with UNITY drivers already mixing it up with this season's more established names. There could be a very exciting road ahead for this team!
We spoke to Laurent Huygens (UNITY Babarxxl) to find out what attracted the team to Project CARS and whether they truly believe they have what it takes to be champions...
How and when did you first get interested in sim racing?
I'm 36 years old, so you can easily imagine that I've been playing racing games for a while! My first racing game was Pole Position on Commodore 64, back in in the Middle Ages! Racing and competition is in my blood. It's in my DNA because my father was a racer too.

Which racing games did you play before Project CARS?
I mostly played rally games like Colin McRae, DiRT and SEGA Rally, but also Need For Speed and the official Formula 1 games. Honestly, I was a big Forza Motorsport fan as well. I played that series for years before Project CARS arrived on the market. I actually invested in a wheel specifically for Project CARS.

Why did you choose to play Project CARS?
I chose for it for a variety of reasons. Firstly, it's a real simulation game at last, including night and rain conditions. Secondly, because you have direct access to all of the cars and tracks, unlike Forza, and this is really important for me because I'm not a fan of Career modes.
I started playing Project CARS with a pad at first, but I quickly decided to buy a wheel. I'm now playing with the TX Wheel from Thrustmaster with the 599XX Wheel Add-on and the T3PA Pro Pedals. The sensations are just incredible! The game gives you so many possibilities like the FFB, the camera angles and so on. In other words you have made me a very happy man!

What do you like the most about Project CARS?
What I like the most is the behaviour of the car when you're playing with a wheel. The design of the cars are splendid too. I had the chance to meet Ryan Day, one of the designers of the RWD P30, which was a real thrill.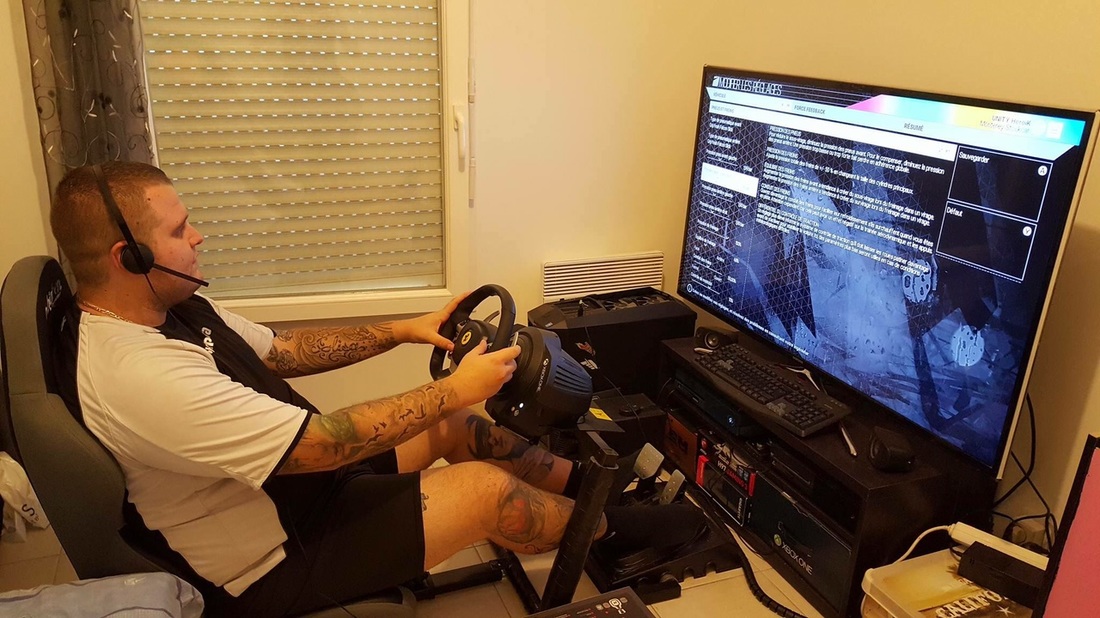 How do you prepare for each round of the Driver Network Championship and the ESL Cups?

We have an equation that we stick to in our team:

Prepare the setup + test the setup + training + go for it = results!

Indeed we are doing our best to have competitive cars and to at least reach the top 10 in each event. We joined some of these championships late this year, but we intend to be present and competitive from the first rounds in 2016!

Who tunes the cars for your team? Do you work on setups together?

UNITY JO focuses on the Formula A cars and I tend to handle the rest, particularly in Prototype and GT. We are the only ones in the team who really understand every single element of car setup.

Two people is not really enough though and we would love to recruit others who can help. People can

contact me on Twitter

if they are interested in joining the team!

How do you keep the team motivated?

All the UNITY members are in involved in the development and the visibility of the team in the community. We recently recruited Sebastien a.k.a. UNITY Seblink as a driver and to be our Community Manager. He's helping so much with posting the team's results in the different championships, finding and pushing us to join new competitions, creating our own competitions, logos and partnerships.
Do you think that your drivers are good enough to win some championships with ESL?
I think so! We've only started to race with the ESL recently and we've already had some good results including UNITY tRiStS16 coming first at Silverstone and third at Bathurst, and myself coming third at Mazda Raceway Laguna Seca.
We believe in every single driver in the team and we are supporting them to be the best, by investing more time in the ESL and other championships.
Beside the official competitions we are also present in different championships organized by Xbox Sport League and some championships organised by eSports teams including:

RUF CUP 2015
UNITY Babarxxl leading
7th UNITY Speedfire
​13th UNITY Seblink

AMERICAN STOCKCAR CHAMPIONSHIP
UNITY Babarxxl leading
​3rd UNITY Seblink
Followed by UNITY NANDO, UNITY Heroik, UNITY D4NG3ROUS

FORMULA A CHAMPIONSHIP
UNITY JO leading
​3rd UNITY TIFLA

CHAMPIONNAT AMATEUR PROJECT CARS 2015
UNITY Nando
UNITY Seblink
​UNITY Speedfire

ENDURANCE CHAMPIONSHIP

2nd UNITY JO
What would it mean to the team if one of its members could win an ESL Monthly Final?
Honestly, I would be so happy for several reasons. It's glorifying for the driver, for the person who made the setups and for the team. We call that OTOD: One Team, One Dream!
I'm very serious when I say that we are like a family. We share good and bad moments together and it's the power of the team.
Have you raced any cars in real life?
Yes, I've had the chance to race on different tracks like Zolder, Spa Francorchamps and Misano Adriatico in different cars like the Porsche 911 GT3, Mini Cup and Fun Cup. I loved it but it costs a lot of money to get access just for one weekend!

What car do you drive in real life?
My last 3 cars were a Mercedes 220 CDI AMG, a BMW 320D and a VW Golf 7 GTD

What's your favourite car in Project CARS and why?
My favourite cars are the RWD P3O for the performance, the RUF RGT-8 GT3 for the general pleasure you feel when driving this car and the Mclaren F1 GTR Long Tail for the sound of the engine!
I like the Group 5 cars as well because they are for real men!

What's your favourite car in real life and why?
Without any hesitation the new Porsche GT3 RS, for the simple reason of driving a real race machine on the road. And Porsche represents excellence in my eyes.

What would you like to see added to Project CARS in the future and why?
Generally more tracks like Sebring, Mugello, Indianapolis, Classic Le Mans and Motegi.
If Santa Claus can bring a few extra features for Christmas, that would be magic too! A suspension calculator and more tutorials explaining the setup and force feedback would be great.
Helping people who are less knowledgeable about car setups would help the community and the competitions a lot.