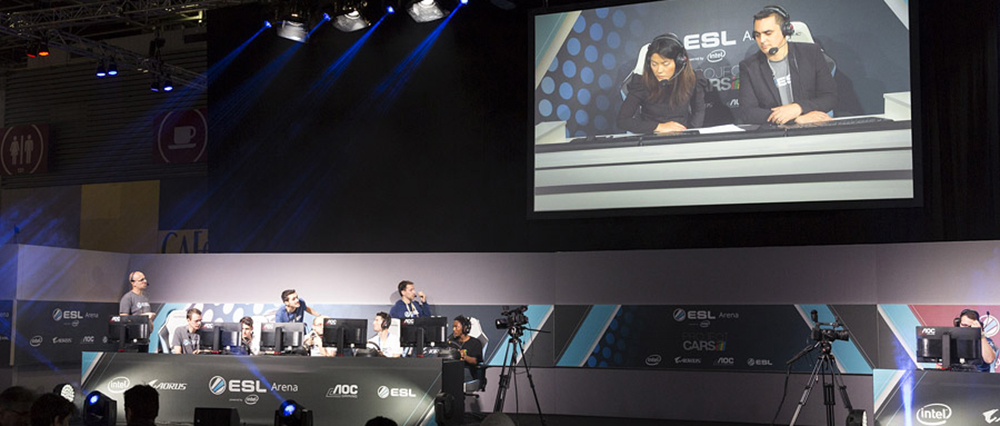 ​Project CARS was out in full force at Paris Games Week this year bringing sim-racing eSports to the masses with our biggest ever live racing event!
​In partnership with the
Electronic Sports League
we took over the ESL Arena in Paris' Porte De Versaille Expo for an entire day of action with some of Europe's best Project CARS drivers.
Eight racers took part in the event. To select them, we worked with Project CARS Community France to organise online qualifying races. Many of the top ranked teams from the
SMS-R Driver Network Championship
and
ESL Go4 Cups
took part and the successful drivers included many familiar names, with a few surprises thrown in too...
VIRTUAL DRIVERS BY TX3

TX3 Stazer

TX3 JeanBonneau

REAL CHAMPIONSHIP RACING

Skyline

TEAM SHARK RACING

TSRacing_Atho

SDL MOTORSPORT

SDL SoniK

SDL RotaX

SDL Rossi
The competition was incredibly close. The drivers were forced to use fixed setups for all of the cars and tracks, so the battles were a question of pure skill, making for a very tense atmosphere. A wide variety of racing disciplines were covered too, from Formula Gulf on the tight and twisting Oulton Park circuit, and BAC Mono on the hills of Laguna Seca, to the raw power of LMP1 on the long straights of Monza and Le Mans.

We also had the biggest prizes ever offered in a Project CARS live event! The winner would take home an amazing €500 and a brand-new Thrustmaster wheel too! Understandably, the scale of the event had a big impact on the drivers' performances. There were some nerves on show in front of such a big crowd in the arena and on Twitch, leading to some controversial contact, particularly between the TSRacing and SDL drivers, which was duly penalised by the on-site referees.

Coming into the final round in LMP1 cars at Le Mans, it was still all to play for, with all of the drivers in contention, but it was Alexx from VP Drivers who drove away to a remarkable overall victory. He specialised in taking pole position for the majority of the races and kept out of trouble to manage several superb race wins with big gaps to his rivals. The more experienced drivers, particularly those of SDL and TSRacing, struggled to pull off enough clean races and often found themselves battling in the mid-pack, helping Alexx to control his victories from the front.
FINAL STANDINGS
1st place: Alexx545 (Germany) - VP Drivers
2nd place: TX3 JeanBonneau (France) - Virtual Drivers by TX3
3rd place: SDL SoniK (France) - SDL Motorsport

​It was a thrill to watch these guys battle it out and a real pleasure to hand over the winner's trophy and prizes to Alexx. His approach to the event was very humble, but also laser-focused. He didn't allow himself to be distracted by the scale of the arena or his more experienced competitors. He was a deserved winner!
The action didn't stop there though! We also invited members of the audience in the arena to come up onto the stage for some competitive exhibition races, and there was a fierce showdown match between four drivers from TSRacing and 4 from SDL Motorsport, carrying on their intense rivalry from the
SMS-R Driver Network Championship
. The result actually went against current championship form with SDL taking the victory and the bragging rights... at least for now!
We had an amazing time in France and we were blown away by the knowledge and enthusiasm of Paris' huge crowd of Project CARS and sim-racing fans. We can't wait to go back again!
Finally, a big thank you to Benjamin Benichou from
Project CARS Community France
for supplying the fantastic photos from the ESL Arena and
Helene 'Kijooki' Cressot
for the commentary!