​Round 5 of the Project CARS Esports Logitech G Championship Series travelled to Belgium's legendary Spa-Francorchamps circuit in the ultimate racing machines, Formula A.

This Round is also a chance for the leading teams to score some serious bragging rights and take home the title of Logitech G Series Summer Split Champions. While there aren't any prizes at this stage (the big money comes at the end of the year), taking this title on PC on Console puts a serious stake in the ground and gives the other competitors a benchmark to aim at in the Autumn Split after the summer break. We've seen some extremely close battles this season and we expect the second half of the Series will be no different.

The challenge of Spa is familiar to racing fans around the world. At 4.3 miles it is one of the longest Grand Prix circuits in the world, and also one of the most historic, having hosted decades and decades of classic races. We all remember *that* Formula One race in 1998.

In the world of virtual racing, Spa is no less challenging than it is in real-life. The Formula A car is a true test of man and machine. From the flatout uphill climb of Eau Rouge, to the sweeping double-left at Pouhon and the immense bravery required to take Blanchimont flatout at the end of the lap.

The Logitech G Championship Series is also an open-setup Esports competition. This means that our drivers and teams and free to tune the car however they wish. Each team therefore comes up with its own engineering solution for the event, leading to some fascinating results as they each tackle the course in their own way, but still bring phenomenally close results in the end.

Read on to discover which of our teams and drivers will lead the field going into the summer break.
Console Division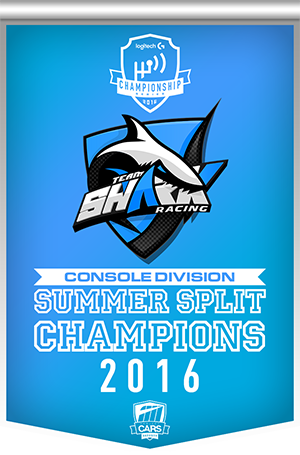 On Console it was a terrific week for Team Shark Racing, with a win for Atho and a third place for Racer, giving the team a double podium.
However, there has been some controversy surrounding Team Shark this week, as drivers Atho and Yinato were accused of sharing PSN accounts during this round. However, later evidence proved that this was not the case, so these drivers have been reinstated in the results. Out apologies to Team Shark for this confusion.
Team TBA did well too, securing a podium in the hands of DaBomb330. Team TBA has shown tremendous promise since its first appearence at the beginning of the season and no doubt it will will be thrilled with this result. There's plenty more to look forward to from TBA too, as it becomes team eSPORTS+CARS in the summer break, following the backing of GT Academy creator, Darren Cox.
Elsewhere it was a solid, but not spectacular Round for SDL Motorsport, with many of its drivers in the points, but its best finish was only 6th place with Rotax. The Unity Elite Racing Team also scored some decent points with SmOKky and Ultraboon8 both inside the points scoring positions.
This all means that Team Shark Racing is our champion Team in the LGCS Summer Split.
It's a close run thing though with SDL Motorsport only 39 points behind. We're expecting a very tight battle for the championship between these two great rivals after the summer break.
PC Division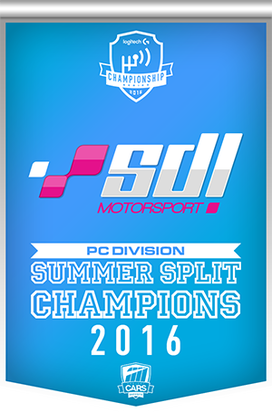 SDL Motorsport also did well on PC where Mangator took his fourth victory of 2016, to make it four wins from five races. A truly remarkable record, the likes of which we haven't ever seen before in Project CARS Esports. Privateer driver, FinPro followed him home in second to keep the damage to a minimum at the top of the drivers standings and stay in touch with his rival.
Third place went to BeetesJuice of HSF Racing, taking both his and the team's first ever podium in a Project CARS Esports event.
Elsewhere, the other SDL drivers continued their good form with Yoohan fourth and Masa sixth. Sixth place will be a disappointment for Masa though as this is his lowest result of the season so far. His performances seem to have dropped a little in the last two Rounds, allowing Mangator and FinPro to pull away in the points standings. Masa has always been a terrific competitor in Project CARS though, so we're sure that we can look forward to him bouncing back soon.
It was also a tougher week for TomiKilos of the Project CARS Polska team, as he could only manage 10th place at Spa, his weakest result of 2016.
​
This all means that SDL Motorsport by Logitech G is our champion Team in the LGCS Summer Split on PC.
This achievement will see SDL lead both Divisions on the LGCS as we head into the summer break. A great result for team, thanks in large part to the amazing consistency show by Mangator and Masa on PC.
FULL results for this round and the season so far are available at the Series page.